Shauna is every bit as warm and inviting as one might think.  Her heart beats to bring people together and to engage in life in true community.  Her gentle spirit and assurance are most certainly reflective of the heart of the Lord to gather us all around tables and to experience life together.
It's our pleasure to introduce you to Allume speaker, Shauna Niequist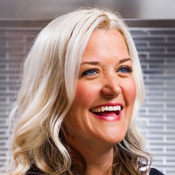 What was your favorite food as a kid?
Cold pizza…and it still is 🙂
What sound do you love?
My kids' laughter
If you could only do one things for a whole year what would you want it to be?
Have a dinner party every night
If you could learn to do anything what would it be?
Speak Italian
What do you do with 30 minutes of free time?
Read a novel
What do you want to be when you grow up?
A novelist
If gifted an all expenses paid vacation to anywhere where would you pick?
Paris, my all-time favorite city
If I was coming to your house for dinner, what would we have?