Our friend and speaker, Carey Bailey is no stranger to most of you, but if you haven't met her.. well, we just have to change that!  Carey is our Allume Creative Director, but before that she is a wife, mom, friend, and talented Life Coach.  Carey combines her expertise in life coaching with a passion for encouraging and inspiring women to live full lives to the glory of the Lord.  She is generous, kind, honest, and brings a real wisdom to Allume on how to make the most of this life that we are living!
Allume Family, enjoy getting to know Carey Bailey!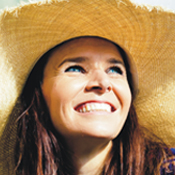 1. What was your favorite food as a kid?
Melted cheese on a flour tortilla with a side of home cooked pinto beans in a tea cup with a dash of salt. Mmmmmm…the memories flooding me are so good right now.
2. What chore do you despise the most?
Laundry. I worked outside of the home till this last year and my sweet husband did the laundry for the first 7 years of our marriage. Now that I am working in the home I took on the laundry. IT.HAS.NO.END!!!!
3. If you could learn to do anything what would it be?
To play the drums. Like for real. Being a drummer in a cool chick rock band is on my dreams list.
 4. What do you do with 30 minutes of free time?
Really? 30 mins. What can you do in 30 minutes? I guess I would organize something. One of my priorities for the year is to have an organized life. I find if I give myself a small amount of time to tackle just one thing a week it pays off.
5. What would the dream birthday present be?
A trip. Give me an experience over a physical gift any day! Now what kind of trip is hard to say. I would take a week at Canyon Ranch Spa in Tucson, a cruise , a weekend of shows and sightseeing in NYC, or give me a staycation in Phoenix. It is all good!
 6. What is something new you learned last week?
I learned you can take the outside of a Clarisonic brush off and just use the inside to get into the hard to get a spots real good! I was excited!
7. What do you miss most about being a kid?
I miss doing Science Fair projects. I love the learning side of it but I mostly loved creating the presentation board and table. My favorite one was in the 4th grade when I figuring out why you are right side up on one side the spoon and upside down on the other side of a spoon. Do you know why?
8. What are your 5 favorite books?
Harry Potter Series (that counts as 1, right?)
True Faced – John Lynch
Dangerous Wonder – Mike Yaconelli
Revolutionary Parenting – George Barna
ANYTHING Henri Nouwen