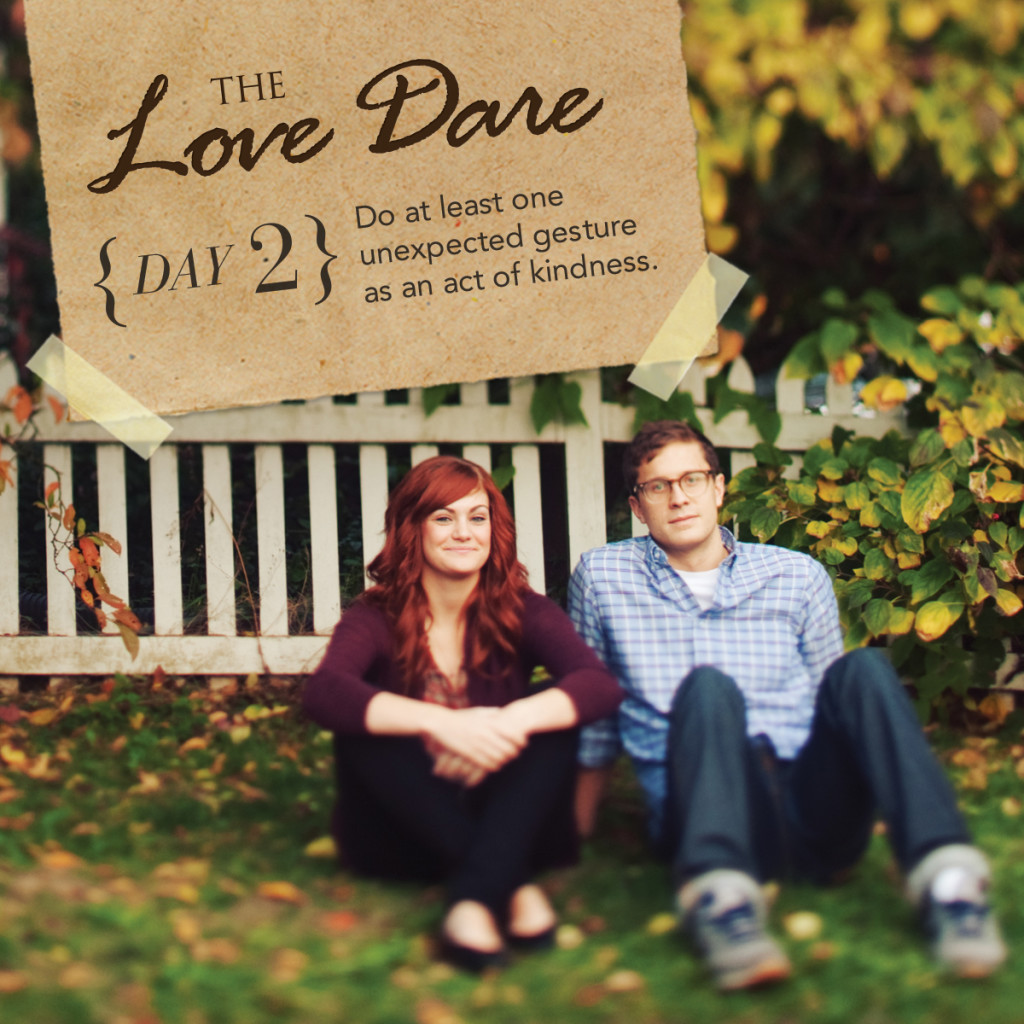 When did love become so hard?
For Jeff and Brittany, loving became hard as soon as they said, "I do" and continued that way for a solid six years of marriage. One day they picked up The Love Dare, and day by day, dare by dare, they began to understand what it meant to truly love each other the way God intended.
(Check out their story at the bottom of this post)
Showing Christ's love to a spouse, a child, a friend, a neighbor, an acquaintance, a stranger, is not always easy. More often than not, it's hard. Our flawed human nature defaults to selfishness and contentedness, often resulting in a lack of effort to love, or even a failure to acknowledge someone else's need for love.
Yet, Jesus calls us to love. And the purpose in loving is not just to be nice, but so that others will know that we are His.
I give you a new command: Love one another. Just as I have loved you, you must also love one another. By this all people will know that you are My disciples, if you have love for one another.
                                                                                                                                                                -John 13:34-35
In preparation for an Allume focusing on hospitality (can you really have hospitality without love?), we're daring you to love big. This doesn't have to be about marriage or parenting—it can be, but it can also be about loving your neighbors, your enemies, your coworkers, your in-laws, etc.
We want you to dare to love big between now and Allume, and then we want you to share your experience with us and the Allume community at Open Mic Night!
To get your wheels turning, we're giving away copies of The Love Dare OR The Love Dare for Parents to 10 lucky winners. Just comment below with which title you'd like a copy of, and if you're a winner we'll get yours in the mail.
And if you don't win, you have the chance to pick up a book at the conference!
Come visit us at The Love Dare booth to nab a spot for Open Mic Night. We can't wait to see you lovely ladies at Allume and to hear your stories of loving BIG!
Because He first loved us,
To watch this video on Youtube, click here: The Love Dare
---
The Love Dare, a #1 New York Times bestseller from B&H Publishing that has sold five million copies, is a 40-day challenge for husbands and wives to understand and practice unconditional love. In 2013, the authors of The Love Dare penned The Love Dare for Parents, a 40-day journey of "dares" challenging one or both parents to understand, practice and communicate Christ-like love to their children. The Love Dare books challenge you to think differently—they're about learning and daring to live a life filled with loving relationships.
Come join the Love Dare movement on Facebook and Twitter (@lovedarebook)!