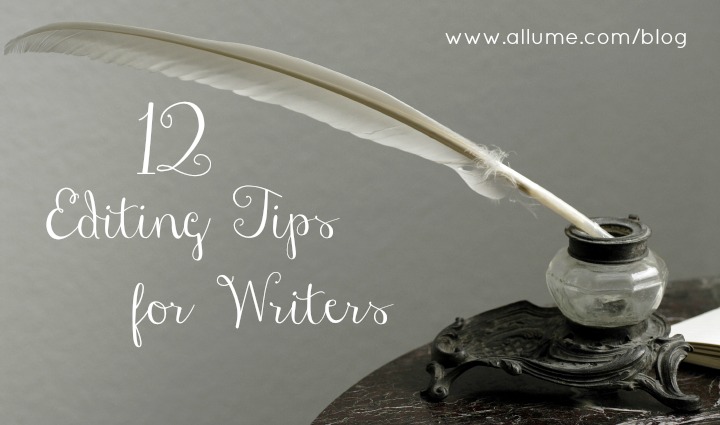 When it comes to writing and feedback, I'm always reminded of my grandma's words: When yer eatin' fried chicken, swallow dat meat and spit out them bones.
My grandma's advice speaks to the truth of editing tips too. Swallow the meat and spit out the bones.
The following are twelve editing tips for writers. If any of these suggestions ring true, then great. But if any of the following suggestions don't resonate with you, I believe you know what's best for your process and your style. Pick and choose the approach that works best for you.
Writers are at their best when they're trusting their instincts. <Tweet this!>
These twelve editing tips discuss when, where, and how to edit:
1. Begin the editing process with rest.
Once you've finished your writing project, put it away for a few days — or longer if possible. Don't look at it. Go outside. Hang out with friends. Watch a football game. Engage your mind on something else. Then, when you return to the words on the page, you're able to see your work with fresh eyes.
2. Schedule a time for editing.
Put it on your calendar. And enlist the support of those nearest you. When family and friends know we're nearing the end of a writing project, it helps to have their support. This, of course, pertains to lengthier works. If it's a shorter work, like a blog post, simply set aside a separate time to review it before publishing.
3. Sit in a location other than where you write.
This may not seem like a big deal, but editing is a different activity than writing. When we edit in a location that's different than where we normally write, we're alerting our subconscious to prepare for a different kind of mental endeavor.
4. Edit from a hard copy.
Yes, this requires the use of paper, but it's more effective. When we read on a computer screen, our eyes are accustomed to scrolling quickly through the text. With a hard copy, each section is contained on a separate piece of paper. This helps us slow down and focus. We're also less likely to tinker endlessly with cutting, pasting, and rearranging. We can write our editing notes in the margin and move on. We can recycle the paper when we're finished.
5. Use a colored pen — preferably red.
English teachers are notorious for bleeding on essays with scathing red ink. In fact, some educators have suggested that red ink shouts at the reader, similar to the use of ALL CAPS. So I've tried editing in every color possible, and I've discovered that blue, purple, and brown ink pens don't contrast enough with the black toner on the page. It's easy to skip an editing comment when it's so close in shade to the black toner. At the same time, most orange, pink, yellow, and green ink pens are too light. The eyes are forced to squint while deciphering the individual letters.
Red ink isn't about shouting. It's about contrast. Our eyes don't have to strain as much to discern the red ink from the black toner.
6. Develop your own coding system.
Whether it's a word that needs omitting or a letter that needs capitalizing, English teachers use a canonized set of symbols to indicate the specific change required in the text. But the actual symbols don't matter as much as the meaning behind them. As long as you know what you mean when you mark your page, you can use whatever coding system you like.
7. Read your work aloud.
The importance of reading your work aloud cannot be stressed enough. This is one of the best techniques for catching your own errors. When you read aloud, mark every place where you stumble over the words. If you have to stop reading to figure out what you're saying, then you can be sure your readers will too.
8. Read with a ruler under each line.
This may feel awkward at first. But we already know what comes next because we wrote it. Using a ruler helps us slow down and concentrate on one line at a time.
9. Read backward.
Again, this technique may feel weird. But if we read one sentence at a time, starting at the end and working our way backward, then we're less likely to "hear" the content, and we can focus on the form.
10. Read a section at random.
Another way to pull ourselves out of the content is to randomly select a paragraph and examine the form. I've caught more typos and minor mistakes this way.
11. Focus on one editing technique at a time.
Either read with a ruler or read backward or read a random section. But don't try to do all three in one sitting. Pick and choose. And spread it out.
12. Take planned breaks.
I prefer to work in long stretches of focused time, but after a few hours, my brain is tired, and I'm ready to stop editing for the day. So I've learned that I can prolong my productivity if I schedule intermittent breaks. For me, I try to walk away from my desk every sixty minutes or so. Even a five-minute break each hour can yield positive results. Oftentimes, my brain continues to mull over my current project while I take a walk outside. When I return to my editing desk, I'm ready to re-engage.
The editing process can be as unique to the writer as her voice and style. <Tweet this!>
So try a few different methods and see what works best for you.
What are your favorite tips for editing?
12 Editing Tips for Writers on the Allume blog today! <Tweet this!>