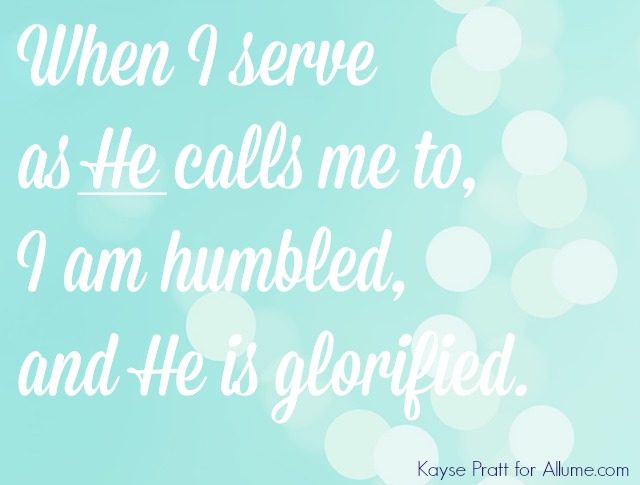 I haven't sat down to write in weeks. Haven't opened up my blog, or a word document, or a Facebook post. Nothing.
I'm a writer, who isn't writing.
But with good reason.
This is a difficult post for me to write, difficult because my pride screams at me to not write it. Don't admit this! Keep it to yourself. It's that pride, though, that is the root of the problem. The root of a lot of my problems, if I'm honest.
When I started blogging, like many of you, it was just for my family. Then, it morphed into something else. A hobby. A business. A brand.
A calling. A way to use my gifts to serve the Lord, and to encourage other women.
And as I pursued that calling, and ran hard after the purpose I thought God had for me, my blog grew, and my little community became a bigger community. My pageviews went up, and the number of Facebook fans and email subscribers grew and grew. I wrote eBooks, and gathered launch teams, and people started asking ME blogging questions, like I knew what I was doing.
So, I started to think that I did. I let the accolades of others fill my soul and speak to my worth. I loved the recognition, however small, and craved more. And I slowly took the reigns of my writing career away from God, and placed them firmly in my own hands.
Not consciously, of course, but I did it. Instead of praising God over the growth of a ministry, I stressed over the numbers that still weren't "enough". I slowly stopped writing what was on my heart, and started writing what I thought people wanted to hear, what I thought might have a shot at going viral. I lost sleep over implementing social media plans, I read books on how to make money blogging, and I lived stressed. All the time, stressed. Always one more thing to do, one more post to schedule, one more status to write.
The truth hit me after one particularly stressful week, and it hit hard. What started as an overflow of my life in Christ, was now sucking me dry and leading me away from the Lord. I was no longer working for Him; I was working for myself.
That's the part that is hardest to admit. Somewhere down the line, I'd stopped writing for God's glory, and started writing for my own. I wanted the numbers, the name, the notoriety. I wanted to stand out, to feel like all of my work was worth something. I wanted to feel like I was worth something.
I'm reading Kristen Welch's book, Rhinestone Jesus (which is amazing, by the way), and she talks about this idea a little bit.
"Our desire to touch others must come from the transforming power of Christ within. Our ultimate goal should be to make His  glory known. There are a lot of do-gooders in the world. A few are misguided people looking for significance. We cannot offer eternal change on our own. It is found in discovering God's purpose for our lives, whether big or small, and allowing Him to use us in a way that brings recognition to His name, not our own."
Misguided people looking for significance. That's been me. I don't think it coincidental that as soon as I took the reigns into my own hands, my blog essentially stopped growing. That no matter what I did on my own, I couldn't get those numbers to go up and stay up.
Writing had become an idol for me, something that gave me a false sense of value. I had elevated the call of writing above all else, including my relationship with the Lord and with my family – my first callings! I'd stay up late, neglect my home, order out for dinner again, snap at a child, and turn on another episode of Mickey Mouse Clubhouse – all for the sake of one more shared blog post. One more comment. One more accolade.
I heard, not for the first time, God ask me to lay it all down. Truth be told, He'd been leading me that way for the past year, but I had a list of excuses that I threw up every time I felt the nudge. This time, though, I obeyed. I stopped writing altogether.
It's not been easy. It might sound extreme, but it's been a bit like rehab. Life rehab. I have to fight the urge to classify every event in my life as "bloggable" or "not bloggable". I took Facebook and Twitter off my phone. I moved my computer out of the kitchen and playroom and into the office (where I rarely go).
I'm relearning how to live, right here, in this life I've been given – being present for the moments that are right in front of me, not just the ones I feel are worth writing about tomorrow.. I'm relearning how it feels to start my day in the Word instead of on my computer. I'm relearning how to spend face to face time with my kids, giving them my full attention instead living distracted.
I'm remembering where my worth truly comes from, and how worthy is the One who gives it to me.
I want to want to write for His glory again, not my own, one day. But I still find myself caught up in the pursuit of glory for myself, when the urge to write strikes. So, for now, I'm quiet. For now, I will listen instead of speak, and follow where He leads, whether that's to the playroom, the laundry room, the mission field, or, eventually, back to my keyboard.
Because nothing else, no striving or stressing, no hard work or carefully laid plan, brings the peace and joy that self-centered glory falsely promises. Instead, when I serve as He calls me to, I am humbled, and He is glorified.
As it should be.
Do you struggle with pride in your work, whether it's writing, or speaking, or mothering? How do you handle that?