Dear Allume Family,
We've posed several questions to our speakers this year to allow you to get to know them better.
We are having such fun learning about them.
Today, it's our honor to introduce to you the phenomenal Amena Brown.  Amena is one of those people who's creativity just oozes with the heart of the Father.  Her poetry is beautiful and her performance of spoken word will easily captivate your heart.  Please welcome, Amena!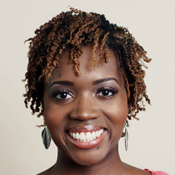 What was your favorite food as a kid?
Chocolate chip cookies
What chore do you despise the most?
Washing dishes!
What sound do you love?
A good bass line in a soul, R&B, or hip hop tune
If you could pick anyone as a mentor who would you pick?
Maya Angelou and Black Thought (lead emcee of The Roots)
If gifted an all expenses paid vacation to anywhere where would you pick?
Italy and Ghana. Italy because of the wine, bread, pasta, pastries, history, art. Ghana, because of the food, culture, art, music, and because I would love for my first trip to Africa to be for leisure with a chance to see an urban center, villages and countryside.
What are your 5 favorite books?
On Writing – by Stephen King, The Creative Habit – by Twyla Tharp, For Colored Girls Who Have Considered Suicide When the Rainbow is Enuf – by Ntozake Shange, The Gifts of Imperfection – by Brene Brown and I Know Why the Caged Bird Sings – By Maya Angelou
To learn even more about our friend Amena, visit her at amenabrown.com or better yet, find out if she is near you performing and go see her!