Sophie Hudson is as delightful as sweet tea on a hot Southern day, enjoyed from a front porch rocking chair beside a treasured friend.  And she is funny enough to make you consider adult diapers necessary as you read her blog or book.  Her charm and wit accompany her thoughtful and genuine personality into every conversation.  She's the friend that will dish up truth with a smile and make you feel normal in your crazy.  She is the lady behind the popular blog, Boo Mama, and we are absolutely thrilled to pieces to have her join us this fall at Allume!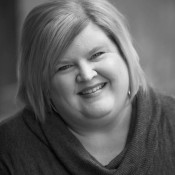 1. What was your favorite food as a kid?
Two words: creamed potatoes. Oh, wait! Two more words: fried okra. I couldn't possibly choose between them.
2. What chore do you despise the most?
The list is long, I'm afraid. I definitely have a mental block about unloading the dishwasher. In fact, I'm actually avoiding it right now by answering these questions. It's ridiculous. And putting away laundry is a close second.
3. When was the last time you chatted with your neighbor?
Ummm – probably this morning. We work at the same place, so we get to chat a lot.
4. What sound do you love?
Oh my goodness. I have so many. I love pretty much any sound that leaves make, and if there happens to be rain hitting those leaves, then forget it. I am asleep in minutes. Besides that…well, I have never heard a baby's laugh that didn't immediately make me teary-eyed. And I love the sound of a good Southern accent. A friend of mine recently said that there are few things as charming as the sound of an older Southern lady saying, "azaleas," and I have to agree.
7. If you could learn to do anything what would it be?
I wish I could learn to sing. I mean, technically I *can* sing, but if I were to, say, stand up in church and sing a solo, I am fairly certain that people would get up and leave (and not because the Holy Spirit was telling them to put Matthew 28:19 into practice; it would be because they WOULD NOT BE ABLE TO STAND THE BELLOWING). So I guess what I'm saying is that I would like to learn to sing well – and in a way that is somewhat pleasing to others. It might require a miracle.
9. What do you do with 30 minutes of free time?
It depends on my mood. If I'm feeling reflective, I love to read and  journal and stare off into space and think (HAVE MERCY the thinking feels like such a luxury sometimes). But if I'm tired, I pretty much just want to nap and watch Bravo and then nap a little more. I'm fancy like that.
15. If everything in your life aligned exactly as in your dreams, what would your life look like?
Where would you live, what would you do? Listen. It sounds like such a cliche', I know, but life really is so much fuller and richer than I ever expected. I am so grateful that God's "immeasurably more" (Ephesians 3:20) sometimes happens in the most ordinary ways. We have such a sweet, simple life in Birmingham – full of places to serve and people to love – and I am so grateful that the Lord led us here. As crazy as it sounds, home is my dream come true, and there's no place I'd rather be.
16. If I was coming to your house for dinner, what would we have?
I'd probably make what I like to call the big ole Southern supper: country fried steak, rice and gravy, butterbeans, rolls, and some fresh tomatoes if they're in season. I'd also fix my grandmother's homemade chocolate pie recipe for dessert, and I can promise you that after a couple of slices of that pie – well, you might just decide to live with us forever. 
17. What's in your purse?
Way too many of my favorite pens (Pentel Sign Pens) (I have a bit of a pen problem). Then there's my wallet, my phone, my sunglasses, a little zippered pouch full of lipstick, my earbuds, and a trusty container of Metholatum ointment. I've used it for chapped lips since I was a child, and I cannot – CANNOT – leave home without it. 
18. What are your 5 favorite books?
To Kill A Mockingbird, Peace Like A River, Bird by Bird, The Furious Longing of God, and Ellen Foster.
…
Learn more about Sophie Hudson by visiting her website. And definitely check out her book, A Little Salty to Cut the Sweet.