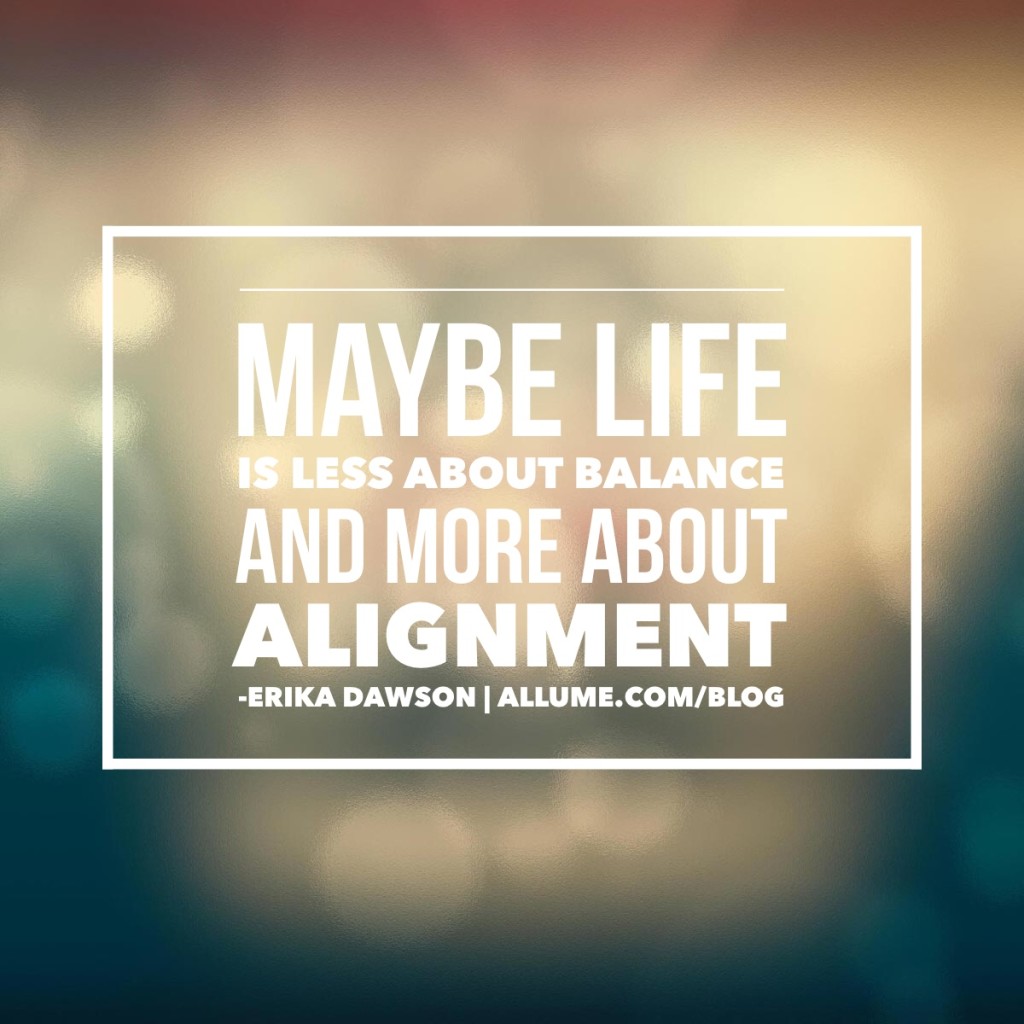 During the long drag of years before our youngest child went to school, my love for my family and my need to write were in acute conflict. The problem was really that I put two things first. My husband and children came first. So did my writing. (Madeleine L'Engle)
We strive for balance all day long — fighting to tip the scales and even the weights.
Pour out a little here, add a little there; pull back, jump in; commit, rescind — collapse overwhelmed. 
Life becomes a crazy two-step in which we're only tripping over our feet in an effort to keep up.
I don't know about you, but I've put so much energy into trying to find balance — praying and questioning and reevaluating, trying hard to know where, how, and with whom to spend my time, set my priorities, accept or decline commitments.
When should I say yes? How often do I say no? Am I attempting too much? Too little? Should I cut back? Where, when, how?
How in the world can I cut back? A new schedule? New routine? Tighten the reigns of self-discipline? Hire help? Just give up?
When I think about balance, I think of those old scales we used in science class — pans on either side of a fulcrum. We'd have to add or subtract weights on one side to make sure the scale didn't dip too far on the other. In some ways, the two sides were in competition, and we were working hard to make them even and keep them balanced.
After all, that's what balance is.
I did a quick search and found that the first two definitions in my computer's dictionary describe balance as:
an even distribution of weight enabling someone or something to remain upright and steady
a condition in which different elements are equal or in the correct proportions
Sound familiar?
We do that in life, don't we? Weigh our ministry against our family — or vice versa — and try to discern how to keep these callings balanced: "evenly distributed, upright and steady, in the correct proportions"?
But maybe life is less about balance and more about alignment. Less about our dreams and our realities competing with each other and more about them working in tandem, together.
Alignment is defined as:
arrangement in a straight line, or in correct or appropriate relative positions
a position of agreement or alliance
Life isn't ministry or family; writing or mothering.
As we pursue God first and foremost, submitting to Him, and following His lead, so many of the questions dissipate because He orchestrates our circumstances and our dreams, using them in synchrony with one another, moving us toward the bigger story He has written for our lives.
He is our dream-giver, our moment-maker.
When our dreams and our realities are submitted to Him, He brings alignment in our lives.
That's not to say there won't ever be times of tension between the two — isn't that part of the journey? of the surrender? of the living by faith?
I have competed for balance for so long, fought for equilibrium, searched to find my footing — to "remain upright and steady" and keep my life "in the correct proportions." But I would much rather live a life of alignment, where every part is in its "appropriate relative position." 
I want every part of my life to line up with the life God is calling me to live. I want to be set on a straight path, all the pieces in agreement and alliance, moving forward in the story God has written for me.
Maybe it's time to stop striving for balance and stop investing so much energy in keeping things even. Rather, let's allow God to bring all the pieces of our lives into alignment as we seek Him daily, minute-by-minute and walk forward in faith.
After all, maybe living in the tension is exactly where we need to rest, that we might stay on our knees, seeking the One who holds all things together and leads us forward on straight paths.