Like a parent whispers in a child's ear just before they let that child go out into the world, God whispered just before I began blogging…
Remember, writing is the not the gift, writing is the fruit of the gift."
This wisdom and truth has remained my compass on this journey.
At the time, I had little understanding of what God really meant. I'm still unfolding the mystery of what the gift is, and how the fruit comes. But, I have a deeper revelation now than before.
Looking back, I see I had no idea what I was getting into when I started blogging. I didn't know how tempting it would be in this online world to want to feel connected to this person, or that circle, or their community, and neglect the most life-giving connection there is — being connected to the Vine.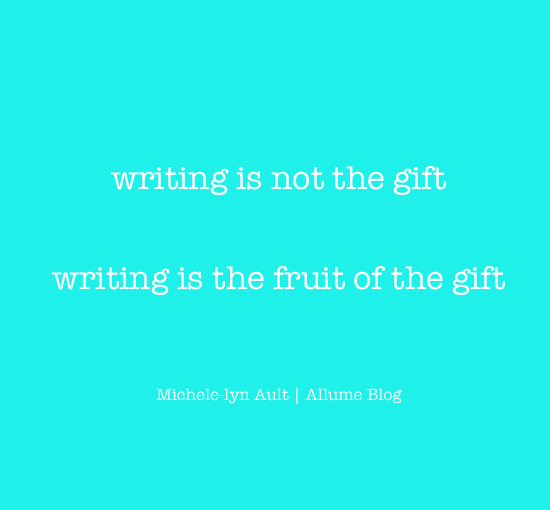 Separated, we cannot produce a thing. Though, we try.
Jesus said, "Live in Me. Make your home in Me just as I do in you. In the same way that a branch can't bear grapes by itself but only by being joined to the vine, you can't bear fruit unless you are joined with Me. I am the Vine, you are the branches. When you're joined with Me and I with you, the relation intimate and organic, the harvest is sure to be abundant." (John 15:4-8 MSG)
Perhaps, that is the gift — the Greatest Gift only made possible by His death on the cross — union with Christ. A gift so easily taken for granted, because He will always be there, waiting. So we keep on persevering, trying to make a difference, to make a lasting impression, to make things happen in our own strength. Yet, we can do nothing apart from Him.
Even. Write.
Well, that's not entirely true. We can write. But, if we aren't sitting at the feet of Jesus — not to check off a religious duty — but to partake from Him living bread, to give Him time to pour into us what we are to pour out to others, then we offer stale bread. And, our bodies weren't made for stale bread.
"It takes more than bread to stay alive. It takes a steady stream of words from God's mouth." (Matt 4:4 MSG)
If we are not near enough to hear His heartbeat, and get quiet enough to hear His Voice, then all we can do is echo what all the other voices are saying. When all the while, we are called to be an echo of His Spirit, saying what He is saying.
What He tells you in the darkness, speak in the light. What He whispers in your ear, proclaim on the rooftops. (Matt 10:27 NASB)
We can write, and we can raise our voice and add to the noise. But, the world doesn't need more noise. The world needs words produced by the Spirit of God, because of a people consecrated for His purposes as ambassadors on this earth to bring freedom to the captives, sight to the blind, healing for the broken, and the Gospel for the lost.
In case you are tempted to worry about numbers that are lost, because you are taking time to sit at the feet of your Lord, let it be the lost that are counted because of you living the Gospel…
Wandering souls that come to your table, feasting on the fruit of grace and truth, partaking through Words of life, because the words were first lived.
Would God ever give us a more compelling reason?