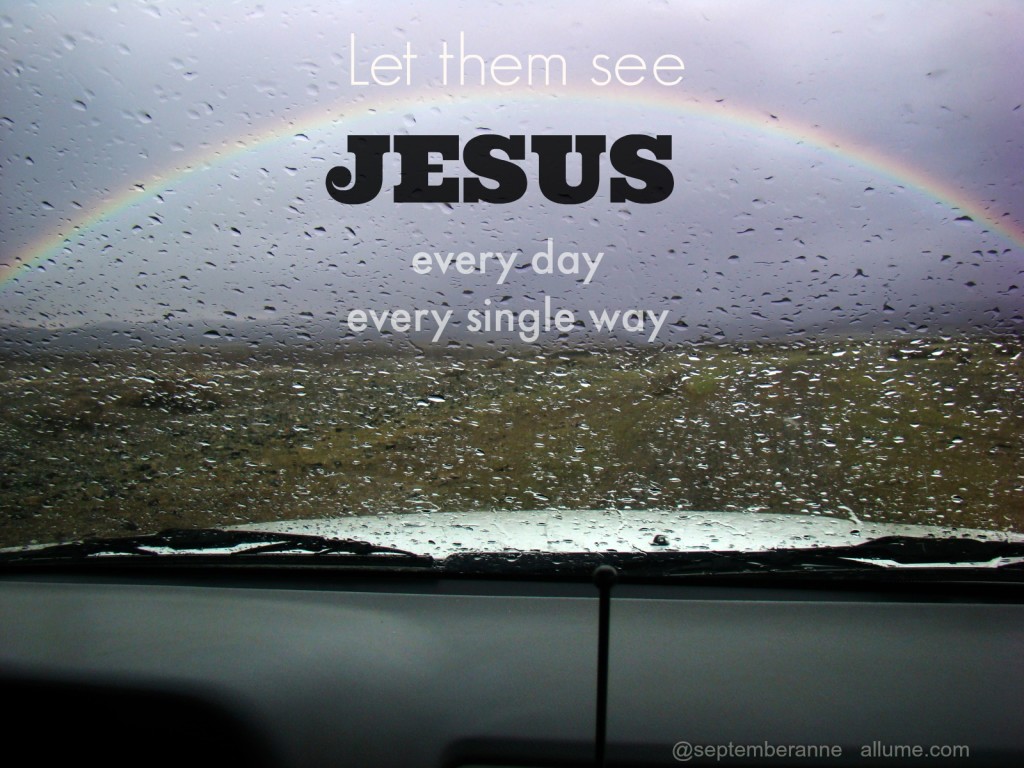 Craziness.  Pure craziness.  A heavy rain was beating onto my windshield, the children were all buckled safely into their seats, and my tires pushed through the puddles forming on the side of the road.  We had a scheduled appointment we were trying to be on time for, and as the rain was almost a pleasant sound to my ears, it was working against the chatter of all of the children sitting behind me.
I was careful to swing wide on the next corner, for the drainage there was poor, and my large van would have pushed the water onto the person standing on the edge of the road.
The next swish of the windshield wiper brought a young woman into my view. Standing on the corner.  In the pouring rain, with a small yellow umbrella in her hand.  The yellow did not cover her head or her face.  She had a new baby strapped to her front , sleeping soundly and oblivious to the rain being caught above him and dripping down the sides of this mama's face.
The clock was speaking to me.  Our appointment.  The rules of consciousness reared up in my mind.  Do not pick up strangers.  I was two stop lights past the corner, when I pulled the van into a parking lot.  Paused.  Looked into the mirror at my children and said, "Did you see that woman back there in the rain?"
They had.  They even saw the baby.  There were no words to be spoken. We went back.  She was still there.
I was in America.  Not Haiti.  Not Africa.  My compass was all turned around, yet we were turning in the right direction.
If only making a difference took us on a plane, and into the slums.  If my children never saw me snap pictures of hungry children, or women sacrificing for their kin, would they know how to be a living invitation?
Right here.  My difference always begins where I can see.
This poor woman must have thought me crazy.  You might be thinking that of me as well.  But, probably for different reasons.  She, for seeing a woman of a different color, a stranger, pull up to offer her a ride in the rain. You, for exposing my children to something unknown.
She asked if I was a shuttle service.  No.  (well, I guess I am a mom of ten with a 15 passenger van. So, yes.)
She asked if I was going her direction.  No, but I would take her any way.
Did I have an appointment we were late too?  Yes.  Were my children ok with that.  Totally.
She was still standing in the rain.  I could now see clearly her baby sleeping against her.  It was chilly, rainy, and she was wet. Very wet.  She stepped into the passenger front seat next to me.  It did not take her long to look behind her to all of the curious smiling children.
We exchanged names.  Her baby continued to sleep.  She asked me a lot of questions. And then she said,
"I have never met someone like you."  She sits back and breathes a deep breath of the warmer air.  She checks on her baby. I can feel her looking at me again.
"There is something so different about you.  Even when you talk.  I do not know how to say it.  I just met you, but I hope some day I can be like you."
My lungs exhaled a quiet, deep breath of Jesus.  She smiles.  She has heard of this before. But has never SEEN Jesus.
Jesus. If making a difference was only a country away, I would not be able to live here for… Jesus.
Every day.  Every single way.