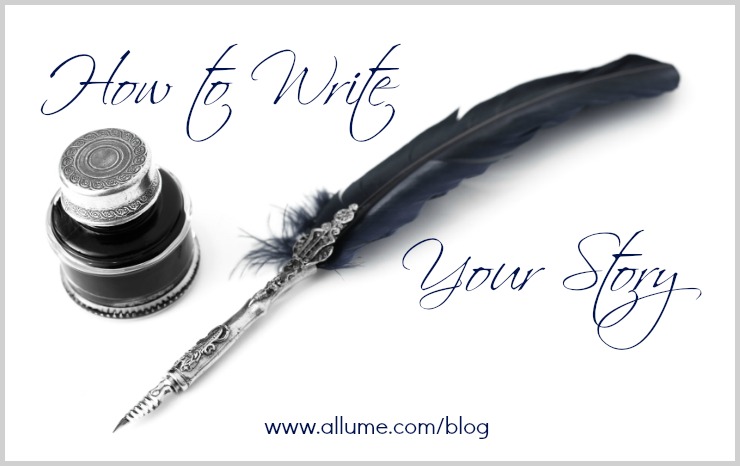 Many bloggers venture into this online space because they have a story to tell.
So if you're interested in blogging your story, here are some tips on how to write your story.
First you'll want to determine your borders. Then you'll want to use the three-pronged approach to story-crafting.
Determine Your Borders
For most writers, getting started is the hardest part. Beginning a new writing project is like trying to hold a blob of JELL-O in our hands. It's shapeless and messy. And we can easily become overwhelmed at trying to figure out how to contain it. So our first order of business is to determine our content and give it some borders.
To get started, think of the individual "scenes" from your story that you might want to include. Sketch a short list of these scenes. Then select one scene. In other words, select a part of your story that happened in one location on the same day.
By drawing these parameters and working with one scene at a time, we can avoid becoming overwhelmed by the enormity of the entire writing project.
Use the Three-Pronged Approach to Story-Crafting
In the literary world, every written work can be categorized as either fiction or nonfiction — except personal narratives. They're a literary breed of their own, and they employ the techniques of both fiction and nonfiction.
A personal narrative must read like a novel with an overarching theme. It has all the elements of fiction — characters, setting, plot, conflict, and resolution — except that it's a true story. Since personal narratives tell a true story, they should follow the same three-pronged approach to story-crafting.
The three ways to present a story are 1) description, 2) dialogue, and 3) narration.
The difference between description and narration lies in the advancement of the plot. When we describe, we stop to notice what the setting or a character looks like. When we narrate, we move the storyline along by showing what happens next.
1. Description
When describing, include the five senses: sight, sound, smell, taste, and touch.
Who is in this scene?
Where does this scene take place?
When does this scene take place?
What is happening in the scene?
To craft a well-written story, we want to follow the advice: Show. Don't tell.
The "sin of telling" is least probable in dialogue.
The "sin of telling" occurs most often in description and narration.
If a sentence begins with one of the following constructions, then it's likely a "telling" statement. Scan your writing for any sentences that begin with these phrases. Then try to rewrite them.
It is/was . . .
It has . . .
There is/was . . .
There are/were . . .
There has/have . . .
I remember when . . .
I remember that . . .
She is/was . . .
He is/was . . .
2. Dialogue
When writing dialogue, aim for a conversational sound. People don't usually speak in complete sentences. Most people talk in fragments, so our dialogue should reflect the way people actually talk.
Let your characters speak. Allow your readers to follow your story by listening to the conversations that take place.
3. Narration
To write your personal narrative, choose the following two things:
your point of view
the tense you will use
For point of view, some narrators have the ability to know the thoughts of other characters in the story, but since you're a character in your own story, it's more realistic if you present your story from your own perspective. So be careful not to "head hop" and portray other characters from their perspective.
For tense, you need to decide if you will write your story in the present tense or past tense. Obviously your story took place in the past, so you might automatically begin writing in the past tense. But remember that your reader is experiencing your story for the first time. It might help your reader feel like she is "in the moment with you" if you write your story in the present tense.
For the Blogger
If you're a blogger who writes DIY kinds of posts, many of these same tips apply.
It's important for all bloggers to determine the borders of each post. Containing a post to one singular focus helps our readers to follow a consistent train of thought. It's also helpful when bloggers include descriptive words regarding sight and sound and touch. This helps our readers visualize what we're saying.
And if you're a blogger who wishes to write your story, I want to encourage you. Your story matters. Try some of these tips. See what works for you. And no matter what, don't give up.
What are some of your favorite writing tips?
Tips on How to Write Your Story @Allume <Tweet this!>