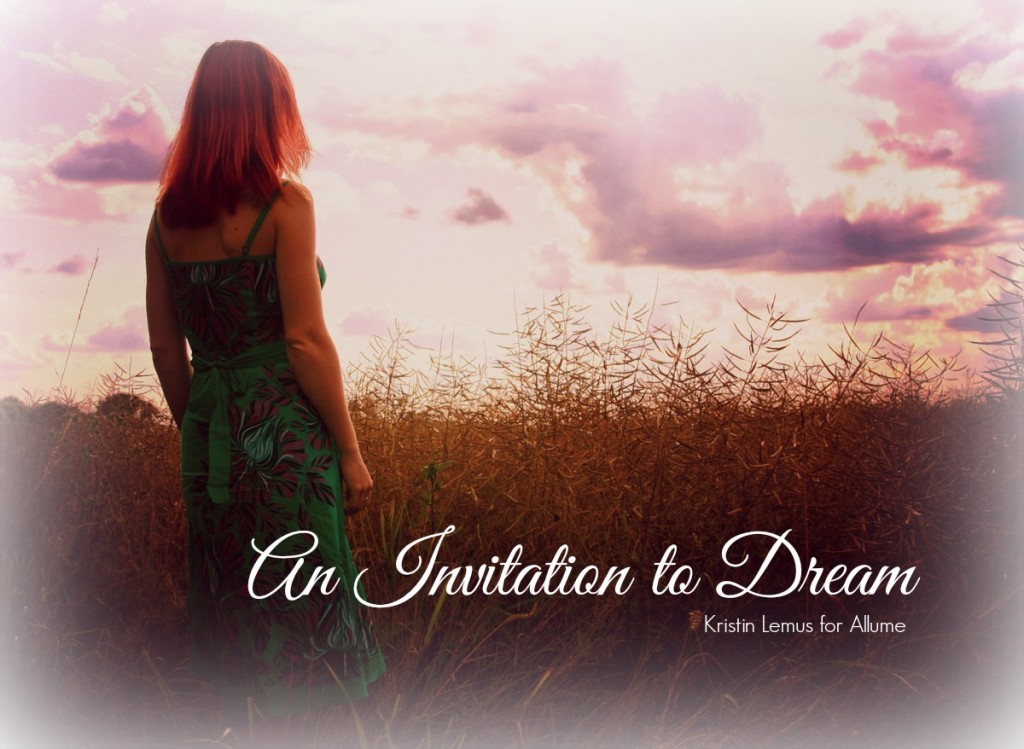 I want to invite you to dream with me for a few moments.  Isn't that what God does for us?  He asks us to dream with Him. He places longings and desires in our hearts along with giftings and talents from a very young age. He speaks life to those things by giving us dreams that line up with His heart for us and our calling. 
All of our dreams are different. Often times our dreams are shaped by the things we go through and suffer through.  A mother who has lost a child and has been through the grieving and healing process may long to take other moms in the same boat by the hand and walk with them on their healing journey.  A daughter who has suffered abuse at the hand of a man and who has found truth that sets her free may dream of sharing that truth with troubled young girls everywhere. A woman who has had such low self esteem and been in so much bondage all of her life but found freedom may not be able to stand the fact that others are in bondage and long to share truth with them.  A mom who has struggled with believing she is a good mom but has begun to believe what God says about her may want every other mom to know that they are good moms too.
What is the dream in your heart?
Is it a dying ember because you haven't seen anything happen with it? OR is it a raging fire because you are so passionate about this calling placed inside of you?
Why are we given dreams? Is it so that we can be beaten up every time we don't measure up? Or suffer comparison every time someone else seems to be doing the very thing we thought we were supposed to do?
No, I am convinced that our dreams are given to us and consume us so that we will partner with God and pray to see them come to life.  We have a choice, we can dream with God, become overwhelmed attempting to make things happen, which almost always causes our dreams to fade or means that we are doing them on our own. OR We can dream with God and in the waiting we can pray.  Every time your dream tugs at your heart you can talk to the One who planted the dream (His dream) in your heart in the first place. Pray, seek Him first and wait.
Imagine if every time you thought about your dreams you asked God for wisdom, provision, to open doors and move on hearts.  How many dreams would we begin to see come alive if we took our concerns, worries and even comparisons to to the Dream Giver and Way Maker?
Let's awaken some dreams today shall we?  Think about what moves your heart the most.  What have you been passionate about seeing change?  Now close your eyes and imagine what it would be like if that problem was overcome.  Not just moved a little but completely overcome?  How mighty a force for God would we be if that thing was eradicated?
Let me share mine with you to get you started. One Sunday at church I sat in the balcony and looked out over the crowd. I seemed to have eyes only for the women there.  In the past I have suffered loneliness, rejection and hurt by women in my life and God has healed my heart and given me a dream to see women set free and loving one another deeply. On this night in particular God was breaking my heart for women who were broken, needy and lonely.  I heard Him whisper in my heart "Imagine if they all walked in freedom?  What kind of impact would they have for My kingdom?"  I caught my breath and allowed myself to dream that dream with Him. "What if they ALL…"  Not just some of them but all of them, God's girls, walked in wholeness, freedom, and love?
That's God's dream and He invited us into it. His heart is for ALL of whatever He has put on your heart to change.  Not some of it but all.  He calls us into His great plans and invites us to pray in the waiting to be made ready, strong, humble, and brave. 
Imagine if we all began to dream our dreams with Him, pray in the waiting and taking the steps He tells us to take?  I believe we would then begin to see the ALL.  We are an army of dreamers and we can raise up an army of healed, set-free, truth seekers that will continue to change our world and dream with God.  Are you with me?
Share with us today the dream in your heart.  Is it an ember or a roaring flame?  Can you imagine what it would be like if all of those people were walking in freedom? Let's encourage one another to dream, pray and do today!