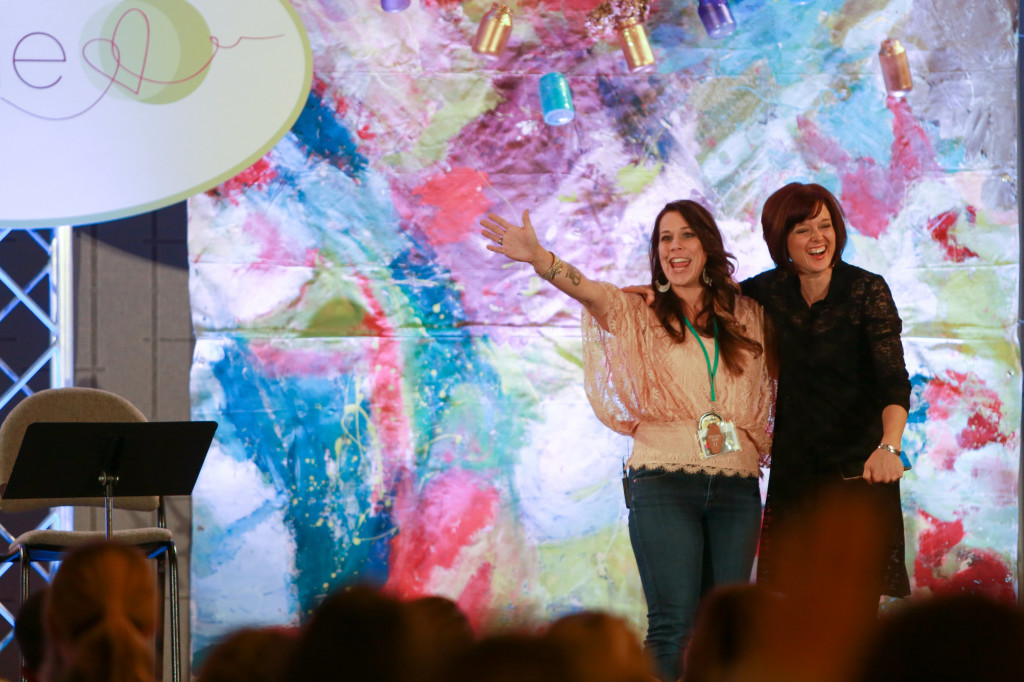 Once when I was a kid, the children's ministry at my church performed the musical, "Fat Fat Jehoshaphat."
My dear friend Laura Parker always got the leads in the plays because she could sing like a nightingale. I on the other hand….well….couldn't.  So in "Fat Fat Jehoshaphat," I was cast as the scribe.  Apparently discontented with being just a scribe, I decided to jazz things up a bit.  So… in my announcement of Fat Fat Jehoshaphat entering the room during the performance…in true-to-Biblical-time fashion…I shouted my "Here Ye, Here Ye" line with a decidedly 8 year old version of a Brittish accent.
And so, I made my stage debut….
I have no idea what Ann Voskamp and I were giddy over in this picture from Allume this past fall, but it really looks to me like I'm announcing her with a British "Here Ye, Here Ye."
And since there's something worth announcing…in the very best way that I know how, I say to you….
Here Ye, Here Ye!
Allume tickets go on sale tomorrow at midnight!
 We will be having a Twitter party beginning tomorrow (Friday 2/28) at 11pm and will run right up until tickets go on sale!  At 11:50 pm during the Twitter party, we'll even be giving away a FREE Conference Ticket! The first 50 tickets sold get a special Early Bird price of $265 (regular price is $299) and the pass includes access to all general sessions, breakout sessions, parties, as well as including all meals from Thursday dinner through Saturday dinner! Go HERE to get your pass, and join us tomorrow night as we give away tons of prizes between 11pm and midnight under the #Allume hashtag!
Hope you'll join us tomorrow night as well as at the conference this October 23-25th in Greenville, SC!  And in case you haven't seen, make sure you check out our new website!  We freshened things up a bit on the ol world wide web slice that Allume.com occupies, and we're pretty pleased with the way it turned out!  Really…we think it deserves a "Here Ye, Here Ye" for sure!
Giveaway!
Do you ever wish you could support a cause financially but you're strapped for sparing the extra money? Well, today's giveaway is awesome because it's money to giveaway.
Let me back up a minute.
Have you heard of Pure Charity? They make it easy to crowdfund projects, non-profits, and causes you care about. For example, you could help fund a staff member in Asia who will help rescue minors who are slaves in sex-trafficking. Or you could support a new resident in Mercy House Kenya, an organization founded by Kristen Welch of We Are THAT Family. Or hey, why don't you consider funding surgeries for children in Iraq, brought to you by the amazing folks at Preemptive Love Coalition.
These are just a few ideas that scratch the surface of what you can do with Pure Charity.
And if you love the idea, but could use some money to get you started, today's giveaway is for you! Pure Charity is giving away a $50 gift card to use on the Pure Charity website!
This is THE BEST kind of shopping spree.
To enter, just fill out the form below! Tweet you tonight!
Love, Logan and Sarah Mae