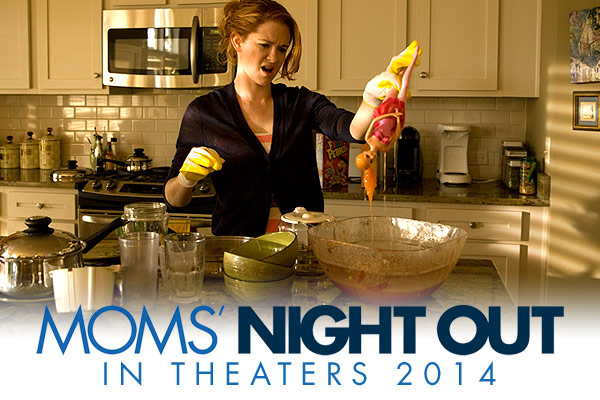 Do you ever stop and wonder when your life became so chaotic? When did going to church mean getting multiple people dressed and ready? When did a special night out with your friends or husband became a foreign concept?
Next year, a movie called MOMS' NIGHT OUT opens in theaters across the country. You just may find yourself wondering who was taking notes at your house to craft this movie script. Yes, your life is about to come to the big screen.
But don't worry: it's a comedy!
Meet Allyson, who longs to find the time, energy, and words to blog about her life. She and her friends are looking forward to a peaceful, grown-up evening of dinner and conversation . . . a long-needed moms' night out. But in order to enjoy high heels, adult conversation, and food not served in a bag, they need their husbands to watch the kids for three hours. What could go wrong?
Chances are, you know the answer to this supposedly rhetorical question. The joy (and the laughter) is in the journey, especially with this cast along for the ride: Sean Astin, Patricia Heaton, Trace Adkins, Alex Kendrick, and Sarah Drew—Dr. Kepner on Grey's Anatomy. Sarah brings a unique perspective to her role as Allyson, the mom of three young children. Here's what Sarah says about how her life intersects with the movie:
I fell in love with this story immediately because it spoke to my heart in a very personal way. I became a mom two years ago, and my life has completely changed. All of my best friends are moms, and what I've noticed is:
Moms are superheroes, and …
Moms are not celebrated for the superheroes they are in our culture today, especially stay-at-home moms.
As moms, we are hungry for opportunities to be refreshed. To laugh and relate and feel like what we do is important and valuable. We moms need to hear, "You are enough, you beautiful, wonderful, glorious women! Stop trying to be everything for everyone, and just be. Just rest. You are loved."
MOMS' NIGHT OUT declares this while making you smile, laugh, and cry. That's what's beautiful about this film. It displays the emotional paradox we find ourselves in every day as we care for our children. Motherhood is joyously exhilarating, epically hilarious, and traumatically terrifying—all at the same time. I spent all the time before having my son paralyzed with fear, afraid that he was going to change my life and I'd lose my freedom and I'd be forced to be less selfish.
Then I discovered once he arrived that I would literally jump in front of a bus for him if he were in danger, giving up absolutely anything for him without hesitation. And I'd do it over and over again. Becoming a parent changes your DNA at its core. This film celebrates and honors the struggle and the release, the terror and the joy, and the hilarity and sobriety of it all.
My hope for this film is that mothers across America will walk out of the theater feeling like the true superheroes they are, feeling like this film nourished and encouraged them in their innermost being. I hope it encourages you to hug your husband and your children tight, hit with a tidal wave of gratitude for the family you care for. I want you to feel honored and celebrated. That is my hope. So grab your friends for a moms' night out to see MOMS' NIGHT OUT and then go back and see it again on a date with your husband. You won't be disappointed. I promise.
That's the heart behind our Friday event at Allume: Girls' Night In. Harken back to the days when you could unwind with your friends without the chaos of everyday life pelting you upside the head like a handful of cheerios thrown from the car seat behind you. Plan to come and get comfy–Logan and Sarah Mae will be in their pajama's!
Also, if you want to participate in the Open Mic Night, be sure you bring your post ready to read. The theme? Why YOU need a mom's night out.
Stop by our booth during Allume to register to win movie tickets for your own MOMS' NIGHT OUT. We look forward to meeting you and can't wait for you to see the movie next year. Together, let's celebrate the beautiful mess called parenting.