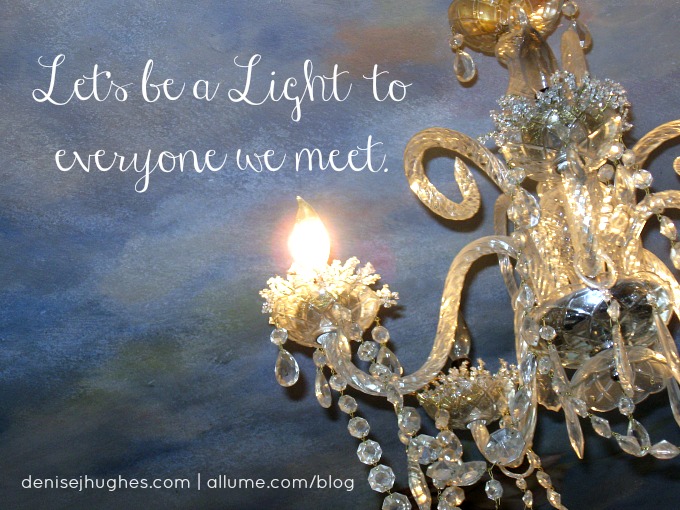 I attended the Allume Conference last year and discovered that a blogging conference takes the virtual out of virtual reality. We get to meet bloggers who are more than a "thumbnail picture" on a computer screen. Those comments at the bottom of a post are from real people! Imagine that.
At Allume, we get to have face-to-face conversations with the writers we've connected with via our blogs. Our online friendships transform into "real life" friendships. We also get to meet new blogging friends who understand this innate desire to put our thoughts into words. We get to meet bloggers who share a similar passion for serving others and lifting up the name of Christ. And we get to learn about the ways we can use our own blogs to serve others and have an impact around the world.
I'm so excited to return again this year. And I have to tell you: I haven't done anything to prepare for the conference. I've not even had new business cards printed. (I think my old cards will be fine.) I'm just planning on coming and having a great time.
I do have one pre-conference ritual though. It begins on the plane. Since I fly out from Los Angeles, I have a few airborne hours to prepare my heart and mind. So I spend this time making a list and then praying.
On my list, I write down all things I'd love to do while I'm at the conference. I write the names of people I'd like to meet. I write the times of meet-ups I'd like to attend. I even write down all the technical aspects of blogging that I'd like to learn more about.
And for all my list-making, I know there's always something more — something deep in my heart — that has yet to find its way onto my paper. So I ask God to show me those hidden hopes I dare not speak. Those secret desires I dare not write down.
Lord, reveal to me any hidden "expectations" I might have.
Inevitably, a few more words find their way onto my list.
Then I lay my list on my lap, and while 30,000 feet in the air, I surrender every hope to the foot of the cross.
Lord, I lay my expectations down.
I give these next few days to You.
May I learn from them what You would have me to learn.
Please open my eyes to see those around me who need a friend.
Open my heart to hear their stories and to truly listen
with the same love and grace You so lavishly give.
Lord, help to see these next few days as an opportunity
to be a blessing to others more than an opportunity
to check off items from my list.
By the time my plane lands on the East Coast, my vision for the conference has been renewed, and I'm reminded of Jesus' words: "It is more blessed to give than to receive" (Acts 20:35).
Then I review another list — one I made a long time ago: Ten Ways to Be a Blessing. And I customize it for the specific upcoming conference.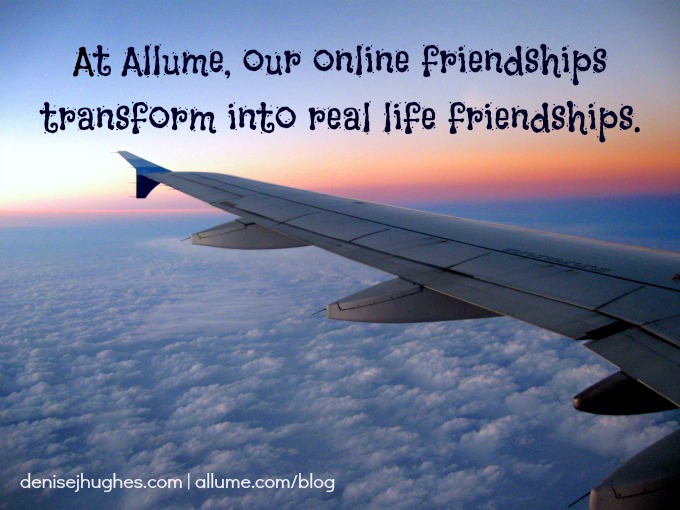 Ten Ways to Be a Blessing at Allume
1. Keep an eye out for lone conference guests.
Invite someone to join you at your table for dinner or to sit next to you at a session.
2. Offer to help a mom with an infant.
Ask her if you can help carry her bag for her. Offer her your chair if there's nowhere else to sit. Offer to help her through the buffet line. Sometimes a mom simply needs a third hand.
3. Pray for the speakers.
They've worked hard to prepare their talks, and they've likely given up time with family to be with us.
4. Visit with the sponsors at their tables.
Ask them about their work and the different ways that bloggers can get involved. Pray about possibly partnering with one of them.
5. Learn the name of the person who makes your bed and brings you clean towels.
Pray for her. Perhaps leave a thank you note for her at the hotel's front desk. Share with the hotel concierge how much you appreciate her.
6. Learn the name of the person who refills the glasses at your table — or the name of the person who stands behind the buffet line to refill the trays of food.
Smile. Tell them how much you appreciate them. Sometimes it's the little things that make a huge difference in a person's day.
Concerned about something with your meal? Find the designated Allume staff to share your concern. They're there to assist you.
Let's be a Light to everyone who works at the hotel. Let's refrain from lodging complaints directly with the hotel staff. They work hard all day, mostly behind the scenes, and I think it would be awesome if they went home to their families saying, "Wow. The guests with the Allume Conference are the kindest guests ever."
7. Pray for Logan.
If you see her in the hallway, ask if there's something you can do to help. Tell her how much you appreciate all the hard work she has put into making this conference happen.
8. Make arrangements ahead of time to connect with someone you want to spend time with.
Are you hoping to sit with a friend at a meal? Instead of saving a seat at a table, perhaps make arrangements to meet in the lobby or by the buffet line. That way no one has to approach a table with empty chairs only to be told that those seats "aren't for you." Ouch.
9. Devote some time to the Prayer Room.
It's a beautiful room especially designed to provide a quiet sanctuary from the hustle and bustle of a busy conference. It's a place of solace. It also has a table with rows of small books; there's one for every attendee. You can write encouraging notes in them. It's one of my favorite parts of the Allume Conference.
10. Bring your jeans and bras that are in good condition.
The bras will be given to women freed from human trafficking, and the jeans will be cut up and used to make shoes for kids in Africa.
Whether this is your first or fourth Allume experience, you are among friends. And if you ever need someone to sit with or someone to talk to, you can send me a note, and I'd be happy to meet up with you.
What are some other ways we can
be a blessing to others while we're at the conference?
I haven't done anything to prepare for Allume. It's okay. I'm coming to have fun. <Tweet that!>
At Allume, we learn about ways we can use our blogs to have an impact around the world. <Tweet that!>
At Allume, our online friendships transform into real life friendships. <Tweet that!>