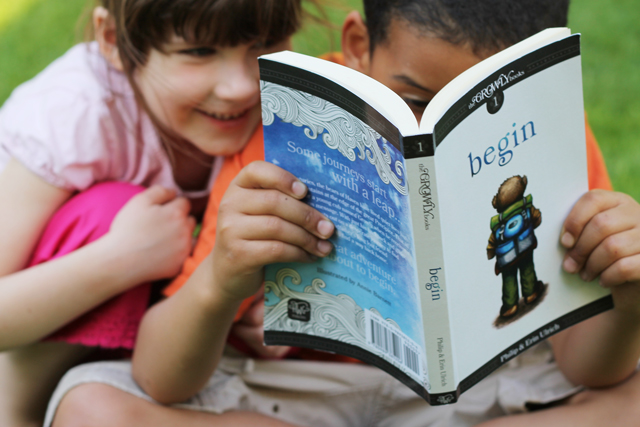 Some journeys start with a leap . . .
Writing The Growly Books has been that kind of journey for us. The story of Growly and his friends came to life in the early morning hours, during stolen daytime moments, and late into the night. Like many stories, it started with just a tiny piece, an idea for one little scene. It has been exciting to see Growly's adventure get bigger and bigger, stretching beyond just a single book. We feel like we have been on the adventure with him, with ups and downs and scary moments, and the Lord has taken us on a journey through the process. It's been a process of faith—stepping out into the unknown at times to see a dream come to life.
The Growly Books are a story for the whole family. Our heart was to see the books as a place for families to gather together, spend time reading, and share an innocent, hope-filled adventure. When book one was released in the spring, we saw this very thing happen. It's still happening now, as Kristen Welch wrote about on her blog just yesterday.
About the story:
For centuries the bears of Haven have lived quiet lives, high in the mountains at the edge of the great Precipice. That all changes for a young cub named Growly when he receives a mysterious message. With just his backpack and glider, Growly sets out on a desperate journey to find his grandfather's long lost friend . . . and to find a way back home. Begin is the first book in The Growly Books series. Written for the 8-12 year old reading level, it is also a captivating read aloud for younger children and will appeal to anyone who appreciates stories of adventure and friendship.
Here's what others have said about the first book in the series, Begin:
"I love it.  Absolutely love it! The Growly Book's first installment, Begin, smacks of friendship, family, adventure, and the knowledge that oftentimes the best moments in life are the things to come that we can't quite imagine. My kids begged for "just one more chapter" each time we opened the pages. Delightful in every way, Growly is already carving his place into history alongside other classic children's tales. For Phil and Erin Ulrich, this truly is the beginning, and we cannot wait to follow along!"

~ Logan Wolfram, Owner of Allume Media and Writer atLife for Dessert

"The very first night I started this book with the boys, it received the highest compliment it can get from them: 'Keep reading, Mommy! And that went on chapter after chapter until we had read for much longer than any of us had planned! The characters, the setting, the adventure – we are all enthralled and can't wait for more!

~ Erin Mohring, Co-Founder of The M.O.B. Society and writer at Home with the Boys

"This morning I overheard my eight year old son excitedly telling the other all about Growly and his first journey. I know this is meant to be a children's book, but I also found myself turning the pages faster and faster as the bear's adventure continued. Our family can't wait for book two!"

~ Jamie Martin, Steady Mom and Simple Homeschool
Book two, Widewater, is in the final stages of production and will officially release in November. The series will be a trilogy, with potential plans for more books beyond that.
We are so excited to be a sponsor of Allume this year, and we look forward to seeing many of you there. In the meantime, stop by our website, The Growly Books, to learn more.