Please welcome Jessica of Sole Hope…
At the time of my trip to Jinja, Uganda, I had been working for Sole Hope for over 8 months.  And prior to that I had been a supporter of the Sole Hope Mission.  All of that time spent volunteering, learning, going through pictures, sharing our mission could not have prepared me for Edrien's (a little 7 year old boy) suffering.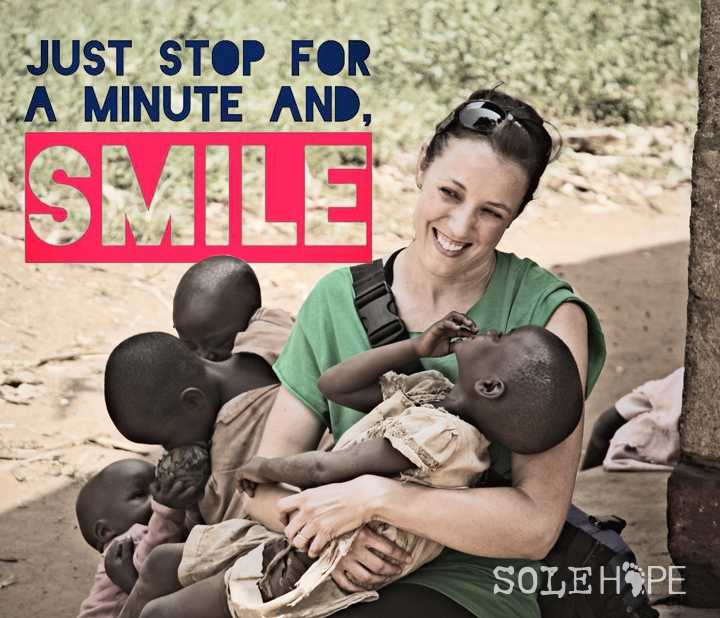 On Tuesday, June 21st- I traveled with my team to the small remote village of Wakisi.  Sole Hope had been there before and had seen children suffering from the jigger epidemic.  [A jigger, also known as Chigoe flea or Tunga penetrans, is a tiny insect that burrows into bare skin (often feet) and lays eggs by the hundreds, which are encased in a sack attached to the jigger.  If a jigger is not removed quickly, the egg sack will grow and become incredibly painful and can lead to gangrene and loss of limb.]
As we pulled up to the site of our first medical clinic we were greeted by the school children singing for us!  It was a precious site.
Our team (made up of travelers from North Carolina, New Hampshire, Colorado, and locals from the region) began to set up in the church building, which doubled as the school.  The first area was for foot washing.  Volunteers, including myself, would wash the children's feet and identify those who were suffering from jigger infestation.  If we saw evidence of these buried jiggers and their growing egg sack, we would have these children passed on to the next section of our clinic:  jigger removal.  The last station was for giving shoes to those children who had suffered from jigger infestation.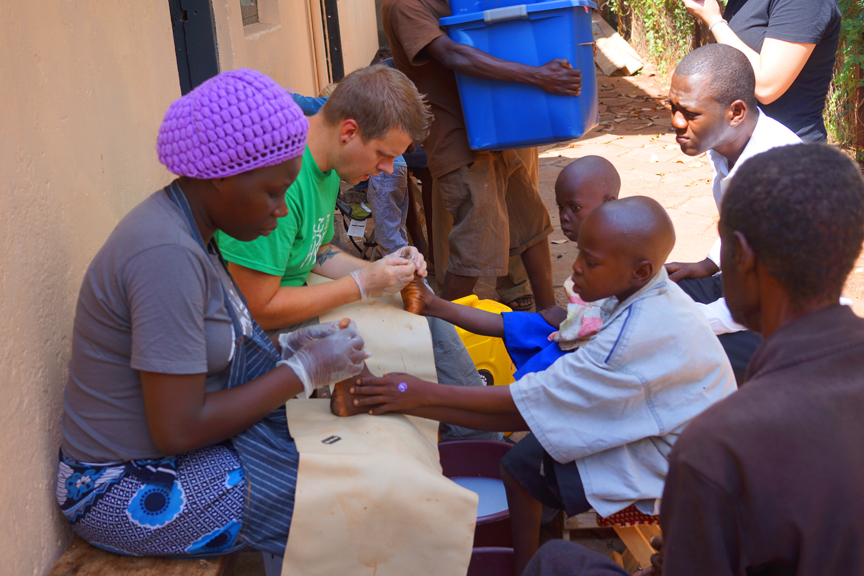 It is here that Edrien comes into my story.  He was one of the first children in line to get his feet washed and he was in a lot of pain.  We immediately put him in front of the nurse that Sole Hope had contracted to join us for the day.  About 2 hours later  I had finished my job washing feet and noticed Edrien was still getting treated.  I sat down beside him to provide some comfort.  Over the course of about 10 minutes my role shifted to holding his feet as he jerked and writhed in pain.
As mentioned above, these jiggers lay an egg sack that becomes incredibly large, about the size of the top of my pinky finger.  It is repulsive.  The method of removing jiggers is to scrape away the top layer of skin with a safety pin and razor blade and then dig out the jigger and try to keep the egg sack from repturing.  The host, in this case Edrien, had been walking around in terrible pain for a long time.  We knew that even though he was suffering from the removal, he would be free from these terrible jiggers at the end of our time there and that provided so much hope.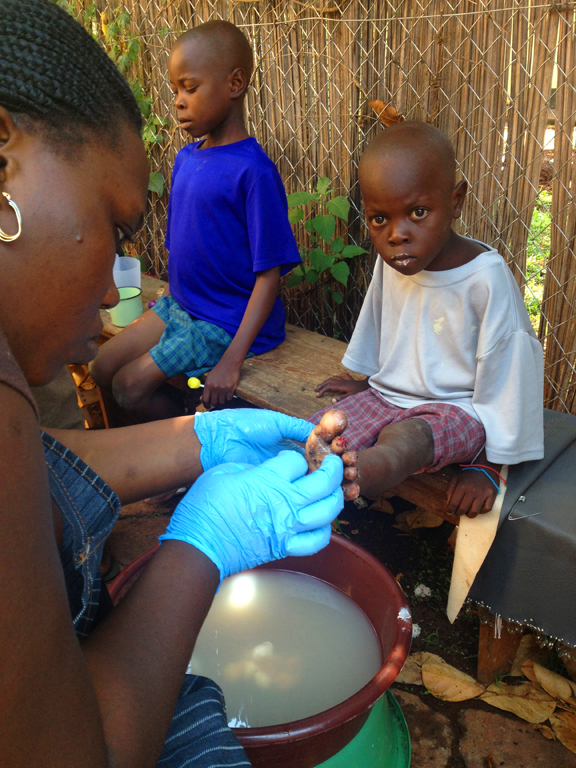 It took the nurse over 3 hours to remove over 50 jiggers which were buried in his feet, sucking the very life from his body causing pain and infection.  He was crying out as she removed each jigger with attached egg sack over and over again.  Holding his legs down became increasingly difficult and our hearts broke for him.  I had to turn away at one point to shed some tears.  I became so angry with myself.  How could I cry when I was not in any pain and here was this brave and courageous little boy sitting next to me fighting for his freedom from pain through his suffering?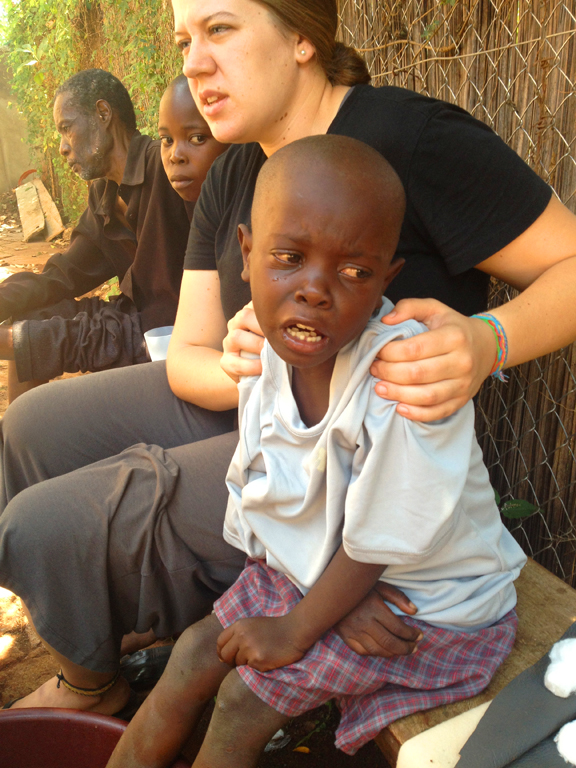 There was an anger that rose up in me.  We HAVE to fight this epidemic.  We have to educate the local people about the chigoe flea.  We have to give them hope that they can take care of the children in their villages (often orphans) and they can do something in this fight.  We have to employ more shoemakers to make more shoes to give to these children.  We have to raise awareness back in the US and across the globe that this is happening to innocent children.  And this little boy beside me should never have to suffer like this again.
I shudder to think about what would have happened if Sole Hope hadn't done a clinic that day.  Edrien's life would surely be at risk for gangrene, tetanus, secondary infection, loss of limb and potentially the loss of his life.
After his feet were bandaged, he was given a pair of closed toed shoes, which will keep him jigger free. Sole Hope sprayed an insecticide in his home as well as inside the school building and the yard surrounding the school.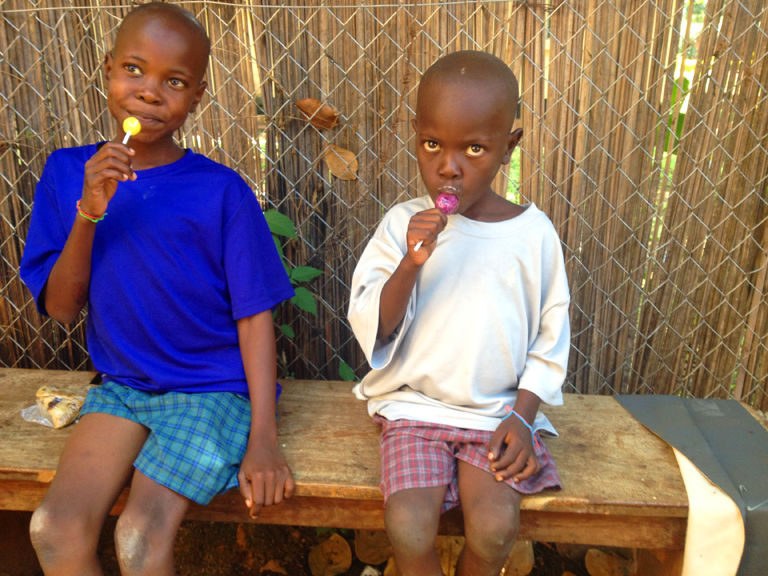 Sole Hope continued to contract with the nurse who attended to Edrien for follow up care.  She returned less than one week later to be sure that his wounds were healing properly.  I am thrilled to report that he is doing remarkably well and still sporting his new shoes!  I believe his story will be a testimony to share and give hope not only to the village leaders and to the surrounding area but to all of us.  Edrien's story is not uncommon.  Sole Hope continues to fight this terrible epidemic that the Ugandan Government is ignoring.
In September, Sole Hope launched a campaign through Pure Charity to raise the funding to provide 2 full time nurses with stable income plus all of the transport costs and materials.  It is a goal that must be met so we can give hope to these precious little children!  Please join us and help us meet this awesome goal.
We will be hosting the Friday morning breakfast at Allume and attendees will hear more about Sole Hope as they participate in a shoe cutting party!  Your old jeans will be used to make shoes for children like Edrien!  (Sign up for our Impact Opportunity here). Please also visit our booth at Allume.  I look forward to meeting each of you!
Sole Hope offers HOPE, healthier lives, and freedom from foot related diseases through education, jobs and medical relief.
Full of Hope~
Jessica Shanor