The world keeps telling me the benefits of a 'balanced life'.  As if I can reach some measure of perfection, nirvana, and platitude of peace.
If I can just get the scales to even out in a straight line.
If I can just balance one more bean in the 'don't spill the beans' game pot,
If I can just pull one more block from the Jenga tower,
If, if, if.
Or if the world isn't telling me to balance they are telling me to choose. As if life is an either or proposition!
You can have a career or be a mom,
You can like country music or rock n roll,
You are either a sporty girl or a Barbie.
You can be outgoing or sensitive
You can be a Mary or a Martha
Or, or, or
But I know (and I know that you know), that life is messy and life can be, lived in the &.
It's not about the perfection of a well-balanced life, it's not about this or that, it's about '&'!
I want to live in the &! Are you with me?  Why can't I enjoy life as it comes, why do I have to choose?   After all, He is mercy & justice, grace & truth, beginning & end, the lion & the lamb…
We can be sporty one day & a Barbie the next, can't we?
We can have a career & be a mom, can't we?
We can be the life of the party & the quiet one, can't we?
We can be passionate & compassionate, can't we?
We can have beauty & depth, can't we?
We can eat healthy & have a brownie, can't we?
At Mary & Martha, we are all about LIVING IN THE '&'.
Entertaining can be meaningful & simple.
You can have a business & a ministry
faith & work!
You can prepare & listen
You can love God & love others.
You can engage in worship & service.
Women are Mary & Martha; there is no reason to choose.
Mary & Martha were better together.
We can hardly wait to meet you at Allume and share our deep desire to:
Radically reimagine what home is all about.
Transform homes where people are loved on
Shift homes from drive-thrus, (pick up what you need and go) to a place to stay
Take routines to meaningful steps
Shatter the illusion that it must be perfect
Remind ourselves and others that…
It's not about a perfect home; it's all about the people!

See what we're all about…
We love this tray & mugs
& we know you will too,
& we want to give away one of these, so…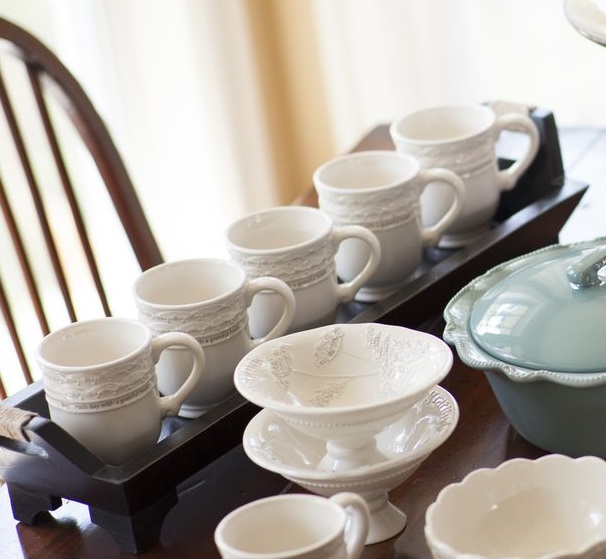 Leave a comment about how & when you would use this tray of mugs, & you just might find yourself the owner of a tray & six mugs!
We invite you to be our guest at the opening night party & receive a fun Mary & Martha somethin'- somethin'!
 Giveaway ends Friday, August 23rd at 11:59EST. U.S. residents only. 
See you at Allume!