This summer, I took an extended blogging break. We were moving from one end of California to the other, and between toddler-chasing and baby-growing, I had to let writing go for a season.
Even more, though, I felt the Lord calling me into something new. To focus fully on my family, accept my limits, and trust that I wouldn't lose all of my readers if I decided to be quiet for a time.
So, I obeyed. It was hard, but wonderful.
Now, though, that season has come to an end. We're all settled in (except for a few pesky boxes), and I've got the writing itch again. But where to start? What to say? When to write? I'm in a place where I've got to find my blogging groove all over again.
As summer comes to an end, I'm guessing many of you are in a similar place. So, today, I'd like to share three ways to kickstart your writing. Whether you're coming out of a quiet season, like me, or just need a renewed focus, there are three key things you can do.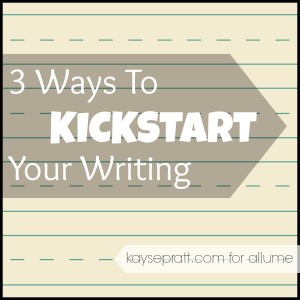 1. Pray
When you're getting ready to craft words and pour your heart onto the page again, it's hard to figure out where to begin. Prayer is essential! Bring your quiet heart, your empty hands, and your will to the feet of the cross. Ask God for your message, your story. It's His name and His glory we're writing for in the first place – He will direct our steps.
2. Plan
Oooh, planning is my favorite part! Once you're back in the writing frame of mind, the ideas might be flowing like crazy! What does your first post back say? Do you start a new series? A new eBook project? There's a lot to figure out. Take a few hours away if you can, and devote some time to planning what your writing is going to look like now. After a season of quiet, chances are your writing is going to look different than it did before. Allow yourself some grace, and give yourself the freedom to take things in a new direction or keep a new schedule.
My two favorite blog planning tools are Intentional Blogger and the "How They Blog" Blog Planning Kit.  These resources both have great printable worksheets for you to go through to create a mission statement, writing schedule, project planning, and more! I took both of these to Panera (along with some fun colored pens, of course!) for a blog planning evening. Afterwards, I had so much more focus and direction for where God wanted me to take my writing ministry. Planning is priceless!
3. Persist
Like I said, things are going to look different after a break. During my own writing break, my stats dwindled a bit, and gmail tabs were introduced. Both of those events meant that my readership was not as engaged as they previously had been. I now needed to cultivate that sense of community again, provide solid content, and give people a reason to read. I'm still working on rebuilding a bit, and some days it would be easy to just throw up my hands and give up. But I know, without a doubt, that writing is an important part of walking in God's will for my life. So, persistence is key. It's important that I keep doing what He's asked me to be doing, no matter what the numbers look like!
Now it's your turn! Tell us, did you take a writing break over the summer? What did you learn in the quiet? What's your best tip for returning to the blogging world?