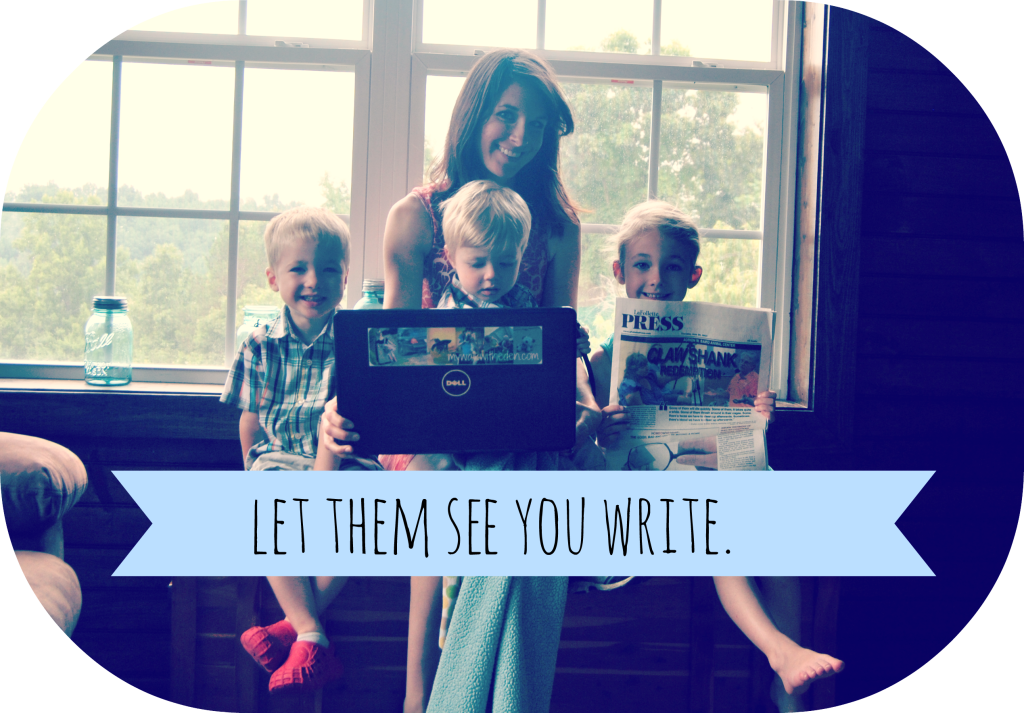 As mothers, it is so important to share with our children our dreams, passions, and talents. If you sing in the church choir, are part of a softball league, or lead storytime at the local library, would you take your children with you? Of course you would! So why is writing any different? So often we feel guilty for pulling out our laptops in front of our kids. Let's change the reason why–show them what you are putting out for the world to see in black and white. Make your words real for them. Here are a few great reasons why:
1. It carries on a legacy.
When I was a little girl, I stayed at my grandfather's feet as he pounded out his heart on that old word processor amidst the soft anthems of show tunes and classical music. He would bring out family, honest faith, and any and all things Southern onto those crisp pieces of paper. When he would complete his latest work, we would glide down the hill to the newspaper office to submit his weekly column to our hometown newspaper, the LaFollette Press. People would see him out and about and approach him like he was a celebrity. Why? He was just a small town man. But his words meant something to someone. And sometimes words are all we have. Now, thanks to his legacy, those passions instilled in me at such a young age are coming to fruition. I now write a column for the same paper. And when the children and I drive down that same, familiar road to pick up our copy on Thursdays, they beg me to read it to them before we ever leave the parking lot.
You are your family's historian! May we continue to tell the tales that bind hearts and encourage souls.
2. It inspires greatness. 
A few weeks ago, the children and I set up a lemonade stand to help the victims of tornadoes in Oklahoma through our "50 State Prayer Project".  Once we returned from our sales and I sat down to share our story, I invited our oldest child to sit with me and shared with her my blog for the first time. I explained to her the heart behind it, how the Lord fuels the words, and how it is named after her. A few hours later, I found her writing feverishly on 3×5 index cards. When I inquired of her latest project, she explained that she was "working on her website, and it is all about pictures, art, and keeping your house clean". She wants to inspire greatness in others, even with crayons and paper. We have also been journaling back and forth, where I will ask a simple question in her journal at night, leave the journal in front of her bedroom door, and she responds in the morning with her "answer". These are dreams we are recording on a daily basis!
May we all have record of where we are going and where we are from. Sharing our hearts can be the greatest of gifts.
3. It is a cure for writer's block.
I went through a period of time earlier this year when I struggled with writer's block terribly. I felt my column submissions were dry and boring at best, and my blog was less than inspiring. In a moment of desperation, I asked my children one morning (after five cups of coffee and several handfuls of chocolate chips..) what people would love to read about in the paper that week. They gave me enough ideas for the next three weeks of columns. It has become so commonplace for me to ask now that a few weeks ago, when we were heading for the splash park, my son declared that he was wearing a "naked shirt" when he was shirtless. We all laughed and my daughter said, "Mommy? You should write about that!" What was next week's column about? Yes. THE NAKED SHIRT. Not sure how those old men at Hardee's enjoyed that particular article, but it was a great idea from my five year old, so I went with it.
Children see the world differently than we do. Explore their thoughts; they may have something in mind we would have completely missed if we had failed to ask!
Friend, you are a WRITER. This is a big deal! Who are we without words to explain our very being? And sharing these words with the next generation instills in their hearts and minds what you love doing most and reminds us of the past and allows us to smile at the future. Your life, your family; we all have something to share.  Gather around, kids. We have a story to write.