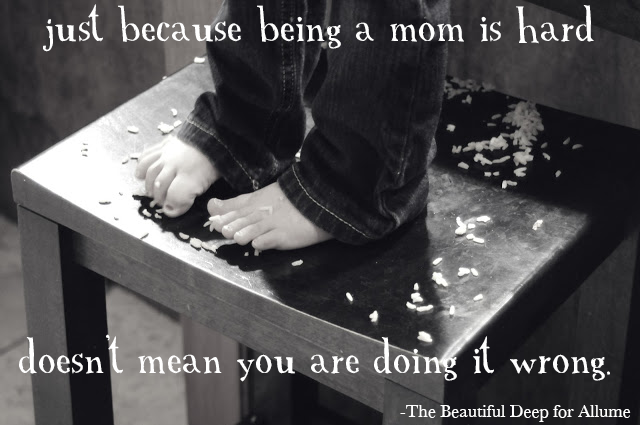 Being a mom is just hard.
Having a newborn who sleeps during the day and wants to stay awake at night is hard. Having a toddler who is into everything is hard. Having a preschooler who doesn't care that it was supposed to only be the "terrible two's" is hard. Dealing with fighting elementary age kids is hard. Having preteens and teens with major hormone changes is hard…
We all fit in there somewhere and, no matter how good at being a mom you are, it is hard.
This isn't about wallowing in pity for yourself or not being grateful for what you have but rather being okay with admitting that your job is challenging. Being a mom takes work day in and day out and it's hard work.
But just because it's hard doesn't mean you are doing it wrong.
It can feel like your world is falling apart one moment when you're tired and the laundry is piled high and the kids are running circles around you with boys being boys (all rough and tough) and girls being girls (all "watch me mommy."). Or how about when your daughter hits your son (for the fourth time)? Or your teen gives in to peer pressure? Or your toddler peed on the floor (again!)? Or your baby just won't stop crying?
They feel like failure moments don't they? They rise up and dump on you with waves of failure.
But in the midst of all this hard stuff you are learning. You are growing. Your kids are learning and their little hearts are on display for you to see.
These aren't failure moments. They are just the hard moments that need the good mom in you to rise up and meet them.
You are a good mom and you are anointed for the task of mothering. The calling, the anointing, is for the good, the bad, the beautiful and the ugly. It's okay that it's hard. It's okay that you don't have all the answers. It's okay that there are moments when you feel like you have messed it all up.
You haven't.
These are the moments, these desperate moments, when we need to hide. Not under a rock but under the shadow of the Almighty. Hide yourself under His wings and let Him have all of the hard of your day.
God takes hard, difficult, and trying and trades them for wisdom to know how to rise up and meet them. He takes weakness and turns it to strength. He shines a light on the hearts of our children in hopes that we will run to Him for the answers, for the strength, for the tools to carry on.
So, take a deep breath and don't listen to the lies of failure when this mothering job is hard. Just run to your great God and listen for His "I've got you girl." He knows it's hard and He'll supply you with grace, peace, strength, wisdom, joy and rest.
What's the most difficult mothering challenge you are facing these days?  How can we pray for you as you seek strength for the journey?