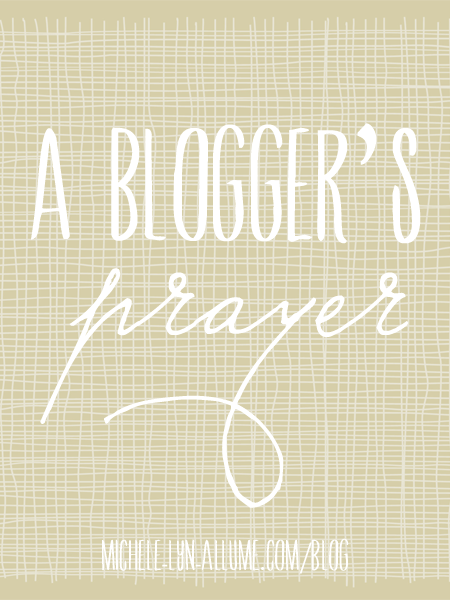 I was nervous when I attended Allume last year. In preparing myself to go, imagining meeting blogging friends included fighting feelings of being in middle school again, petrified at the thought of seeing everyone in real life and them not liking what they see, when they see me, and fearing being left on the outside of the circle — echoes from junior-high taunting still haunting
Yet, as real as those paralyzing fears may be, they weren't my greatest concern. The condition of my heart was. Would I leave Allume wanting to make a name for myself? Would I leave feeling small and shameful about it, with the only way to rectify it being — pursue becoming big?
My fears weren't realized, in no accounts, especially with the matters of my heart. The people I met were people. Just people, and beautiful ones, too. Realizing that dispelled most of my insecurities. And, I left Allume last year with new friendships made, and a greater desire to serve God, my family, and the readers I already had.
I don't know how they did it. Every keynote speaker, and breakout session speaker, big bloggers and smaller ones alike, had woven into each of their talks the same message — your relationship with God and people, especially the ones in your own household, are the most important things to focus on. Period. Only the Holy Spirit could have orchestrated such unity.
At the end, my heart's cry wasn't for greater numbers, it was for a greater passion to seek and please God.
Yet, I'm human and broken. In the seasons between, I let go of what I knew to be true. Somewhere along the way I gave my blog away. In my effort to do what I thought I was supposed to do as a blogger, I began to sacrifice too many of the wrong things.
I lost control of my yes and no. I was saying yes for all the wrong reasons and saying no to all the wrong things, with people-pleasing all mixed in to create a toxic mess. I sacrificed things I was never meant to; my walk with God, my health, my children, my husband, my home, my true self. This summer, my one week blog break turned into two months, and I've slowly come back to blogging. Though, I am not the same.
Blogging has a different purpose for us individually, and collectively the same for all of us who call ourselves Jesus followers. Everything we do should be motivated by a desire to bring God glory. We live our purpose to represent Him on this earth, so others would know that Jesus was sent by the Father. It's our holy privilege, even in blogging. We differ in how we go about it, and that depends on how we were designed by our Creator. But that's another post, entirely.
Today, I surrender, again. I surrender it all. My prayer has become more fervent, "Let Your will be done in this place, and not mine, Lord."
And maybe you can make it a blogger's prayer for you, too?
May my blog be where others may find the Way, the Truth and the Life. 
May my blog never deplete my relationship with You, God, nor my family.
May it only ever point the way to the cross, and be a beacon of light for those who have lost their way to You.
May I be a faithful servant to the precious readers you have entrusted, no matter if they read quiet, and no matter how long they may stay. And as they grace these pages may it be Your grace they find.
And no matter where You may take me from here, no matter what I may find along the way, and I know there will be many distractions vying for my turn to the left or the right, may my most passionate pursuit always be of You.
And to the Father, I echo Your words, Jesus. "My food is to do the will of Him who sent me. And to finish His work." John 4:34 
"May I glorify You on earth
By completing down to the last detail
What You assigned me to do."
John 17:4 MSG
In Jesus Name. Amen.

Still living a life surrendered,
Michele-Lyn