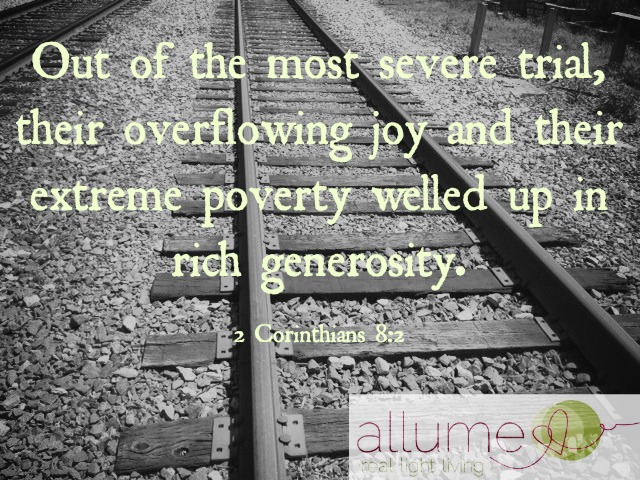 I spent the first year at my job wishing it away.  It wasn't what I wanted, and I let a pout be a permanent fixture in my attitude.
I went back to school with the intention of graduating into my ideal ministry position. I dreamed about that position throughout my three years in grad school. I longed for the day of ministering to women, pouring Scripture into their hearts, and connecting deeply with the Spirit in prayer beside them. I had a dream, I had a vision. But He wanted something different.
I graduated and He opened a door to a position much like where I had come from prior to grad school. In fact, it was a few steps backward in many ways. But He made it obvious this is where He wanted me, and so I obeyed His lead and accepted the position. As time went on I grew to dislike the position more and more and I grew bitter.
Instead of being grateful for a job in a struggling economy, I allowed misery and self-pity to overtake my heart. I soaked in the waters of anger, and I chose not to look at the blessings covered beneath the surface of this job.
Gratitude was something I had lost–a lifestyle, an attitude, a focus I chose to walk away from.
Over time the Lord began to pull up the weeds of resentment, showing me why He had me there. He revealed the purpose- the very reason I was placed there. Over time my heart changed.
But looking back I am saddened that for so long I wished away that season, excited to move on to what God had for me next.
Look what Paul wrote of the Macedonian churches in 2 Corinthians;
Out of the most severe trial, their overflowing joy and their extreme poverty welled up in rich generosity.
Those in Macedonia faced great persecution because of their faith. Their situation deteriorated and poverty spread through the Church. Despite the difficulties they faced, they still chose to praise God and bless others. They contributed financially to Paul's missionary work during this difficult time, they gave out of what they did have, instead of focusing on what they didn't have. The Macedonian's faith increased even in the midst of great trial. They chose to see the grace of God, soaking in His blessings even in the midst of a storm.
The Word of God gives us testimony after testimony of this very attitude, the attitude of living in gratitude and sharing the joy of the Gospel of Christ in every and all situations.
I wonder what would've been different if I hadn't 'wasted' a year pouting over the season He had chosen for me.
As I reflect on that season, I see that He is patient. He is gracious. And He is a great Teacher.
I needed that season of pouting to learn that sometimes my story isn't equal to His story. Sometimes He has different plans for a season then I do, and that doesn't mean it's a waste of time. When my attitude learned to adjust to His plans, when I accepted where He had me and chose to be present and purposeful, I saw His abundant blessings. I saw Him.
After two years in my position, today is my last day. God has moved me into a new season, and I am walking away from this job. I am grateful for where He is leading me, but I wonder what would've been different if I hadn't allowed my pouting attitude to cloud that season.
I am grateful for the lessons He's taught me on this journey, and I pray that my heart will overflow with gratitude, like the Macedonian's, no matter what challenge or storm this next season brings.
Are you in a season you didn't picture for yourself? Are you weary and bitter? Are you pouting the days away?
Let's choose gratitude. Let's choose to see Him in the midst of this season, being open to what He might have for us there.
By, Mandy Scarr at mandyscarr.com