Writing and life. The two are not mutually exclusive. If you are a writer–one who enjoys writing–writing is a part of your life. Not something that exists outside of it. Many things you do, see, feel, and experience will shape your writing. Furthermore, many things we write will shape our lives.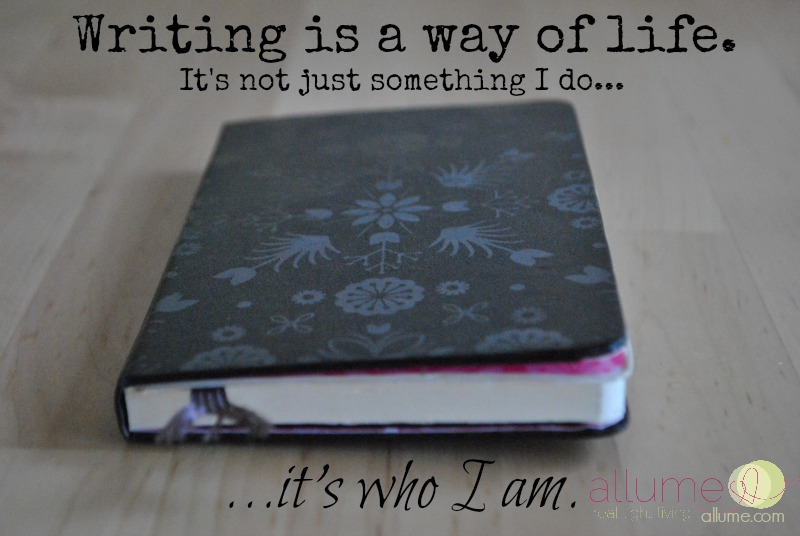 For me, personally, writing helps me organize my thoughts. It helps me process life. It allows me to savor moments and share reality with people who think they are alone in motherhood. Writing teaches me lessons just as other activities in life do. Writing keeps my mind working just as life keeps my hands working.
Writing is part of life for me.
It's as much a part of me as using my hands to do laundry and make meals. It's as in ingrained in me as talking (just not as often). Writing is a way of life.
I loved Tricia's post yesterday about the myth of balance. Balance isn't exactly what we think it is. It's not about spending so much time on this, and the same amount of time on that. Like anything else in life, every thing has it's place. Meals have their place. Routines have their place. Entertainment and fun have their place.
So it is with writing.  Writing has its place. Writing happens as life happens. It begins with some scribbled out notes scratched on paper throughout the day. It includes a pause in the day to make those notes into ideas and expressions. After dinner those ideas may need a bit of editing and tweaking. Maybe something sparked further inspiration to reword or add more description.
Once the children are in bed, writing continues. While some choose to spend their time watching their favorite television shows (which is perfectly fine!), I choose to write. I don't have any favorite television shows because I'm not a big fan of television. I have favorite movies that I enjoy with my family. But daily TV watching just isn't something we do. Not because of some "super spiritual" reason. Simply because we have interests in other areas. I choose to spend my time writing. When I'm not writing, I'm reading.
I have made writing a part of my life because it's in part how God designed me. That doesn't mean it won't have the potential to consume. Anything has that potential. God designed us to eat, but food can still consume us. God designed us to rest, but we can rest too much and become lazy.
It's not necessarily about balance, but about prioritizing. Some days laundry and cleaning out your kids' room takes priority while other days a writing deadline might be looming and you order Chinese take-out. Just as some days I need a break from life; from routines and demands and cleaning. Some days, I need a break from writing; from thinking and creating and editing. It's the ebb and flow of life.
Writing isn't just something I do; it's who I am. 
I'm a child of God; I'm a wife, and mother, and keeper of my home. I'm a writer.