I tell my son to be careful not to paint the table.
I've laid out plastic and my four and eight year old have the watercolors and a collection of rocks to recreate into swirling florals and all manner of messiness.
My daughter has a paint by numbers that is sectioned into tiny slivers awaiting their chosen colors, the end result being a Panda.  I've unleashed their brushes and their tiny fingers lead them in pirouettes across the stones and canvas.
I open my laptop next to them and stare at the cursor flashing on the blank page.
And then my son has finished his first rock, a black swirl of paint on a smooth round stone. He tells me it's a wabbit.
My daughter is leaning close to the canvas, hand steady trying to get the paint into the designated spots. I see the Panda's face beginning to form. She bites her lip and tilts her head to the side inspecting her work.
"Mommy, I can't get the yellow to mix right. I think I made it look weird." She is becoming her own worst critic.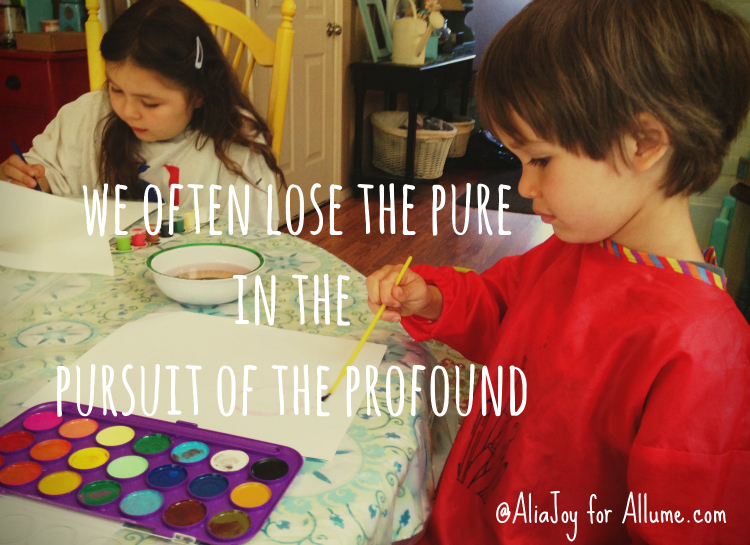 Meanwhile my son has cranked out several more rock paintings and has graduated to paper. He holds up a painting in hot pink, a large circle with two lines sticking out the bottom.
"This is you, mommy, " he announces proudly. Although, I do have a potato-esque shape, I don't  see the resemblance. I move it to the counter to dry alongside the line and two dots which is my husband and the green circle which is our house.
And I think about my blank screen and my inner critic and my need to make the words just right.
I think about my children's fingers dappled with paint.
Young children lack the skill to create with precision but what they lack in ability they more than make up in confidence. Young children still see the world with every possibility because nothing is fantastical yet. Pioneers in their journey of discovery, everything is new, therefore everything holds equal fascination and monotony.
When we pause at the painted hills, the striated rock colorations etched golden-red like tiger stripes, we all stop to take in the glory. But the young child runs along merrily, picking up rocks without discrimination of their ordinariness. He squats down to watch an ant barrel along while the valley stretches wide beside him, unnoticed.
We learn to classify the ordinary and monotonous in direct contrast to the extraordinary and magnificent.
G.K. Chesterton states, "The poets have been mysteriously silent on the subject of cheese…"  Yes, cheese may not inspire sonnets, although I do have a baked brie recipe that makes me believe there is a God who loves me. What I believe Chesterton is getting at is that we find ordinary things uninspiring.  Mundane things like diaper changes and Math lessons, grocery shopping, and spreadsheets.
We forget as writers, that eventually, everything becomes monotonous to those who can no longer see the simple and ordinary graces among us.
Yes, we all want to write that post. The profound one that goes viral. Yet we often lose the pure in the pursuit of the profound.
Simplicity comes before the numbers and the lines. Before you know what the picture is supposed to look like. When you have the ability to splash in the paint tray and mix the colors.
Because the Lord sees beauty in your words when they're full of wonder and praise. When we silence the critic and let our fingertips dance on the keys without always knowing what picture we're painting. When we make art in a world full of ordinary, we paint in God's glory.
Alia Joy writing at Narrow Paths to Higher Places