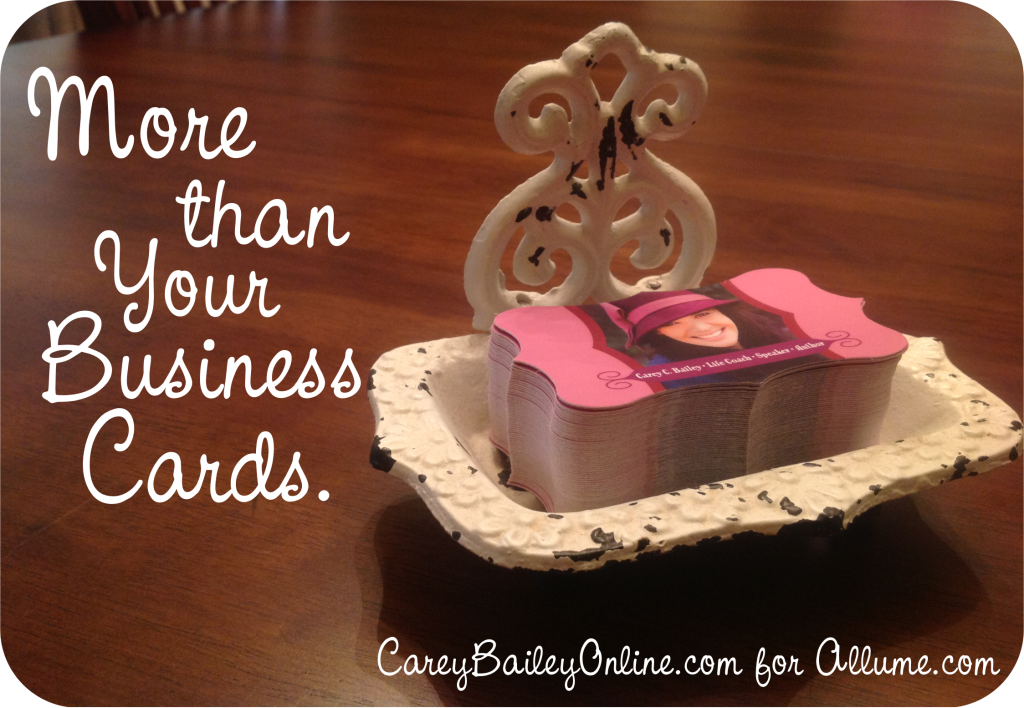 I attended my first Allume conference two years ago. I was as nervous as a hummingbird! A few weeks before the festivities were to begin, I started to notice Allume peeps tweeting about the cute business cards they were bringing to the conference.
What? I began to panic. I didn't have these things called "business cards".
I quickly asked a designer friend to whip me up something and we rushed it to Overnight Prints. Like magic, I suddenly became the proud owner of business cards. But, I have to admit I was still wondering what I was actually going to do with them. I was pretty sure I would be returning home with the whole box.
Boy was I wrong! As I sat down the first night with a table full of women I did not know, one lady spoke up and said,
"Let the business card passing begin!"
It was like she sounded a trumpet! Everyone grabbed a stack of their cards and started passing to their right. As the cards went by you grabbed one of each. Wow! I suddenly now had other people's business cards. This ritual occurred probably five times a day. By the time I got home I had over 100 business cards. In fact, I still have them. They sit in a stack on my desk along with my stack from last year.
I do enjoy looking at the way people visually represent themselves and their brand, I do enjoy having email addresses of people I connect with easily accessible, and I do enjoy having something to use as a distraction when I am sitting by myself and not sure what to do. But do you know what I enjoy more than a 3" x 2.5" piece of heavy weight paper with a picture on it?
I enjoy actually getting to know the people at my right and left at meals.
I enjoy having conversations about where people are from.
I enjoy discovering how and why people started blogging.
More than anything I enjoy listening to hopes and dreams inside the women around me.
Each year I go home from Allume with my new stash of business cards but what stays with me and makes me want to keeping coming back to Allume each year are not the cute business cards, it is the relationship building. It is impromptu mentoring sessions, the brainstorming breakfasts, the tears in the DaySpring lounge, the kindred spirits you discover, the challenge to be brave, the reminder to choose God 1st, family second, and blogging somewhere way down on the list, the opportunity to worship without distraction, the prayer, prayer, and more prayer.
So this year bring your cute business cards, but plan on being more than your card. Plan on being a conversation starter, relationship builder, and light to those around you.
With Joy, Carey C. Bailey from Cravings: desiring God in the midst of motherhood