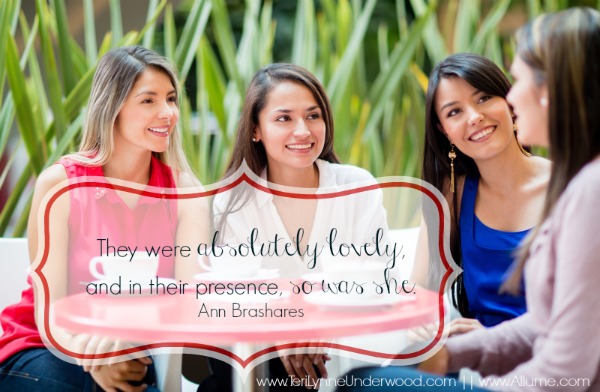 It's true, you know, beauty brings beauty.  When we gather together as women the loveliness inside each of us is magnified.  I've watched it happen time and again.
Deep inside each of us is a longing for the beauty of true heart connection.  We pray for soul sisters who will walk the hills and valleys of life with us.  We long for friendships forged through play dates and prayers.  Instinctively, intuitively, we understand we need others.  Others make us better, stronger, beautiful.
Two are better than one, because they have a good reward for their toil … And though a man might prevail against one who is alone, two will withstand him—a threefold cord is not quickly broken.  Ecclesiastes 4:9, 12 ESV
Do you surround yourself with the loveliness of other women?  Maybe you need to schedule a lunch with some friends or join a book club or plan a play date.
Make gathering with other women a priority … you'll be stronger and lovelier from it.
What is your favorite way to spend time with other women?