I hear my 3 year old through whimpers and whines, "I no like waiting. Waiting is hard."
"I know," I sigh.
It is hard for a toddler, and it's hard for us adults. But waiting is inevitable, isn't it?
We are waiting for an answer to prayer.
We are waiting for provision.
We are waiting for God to promote us.
We are waiting for our dreams to come to life, or a life to come to us.
While we wait, we still journey. Life goes on, and we must go on. We are in-between where we were and where we want to be, and it's how we journey that's most important. And in that journey, my friend, is where God does His best work in us. So what are we to do while we we wait? This…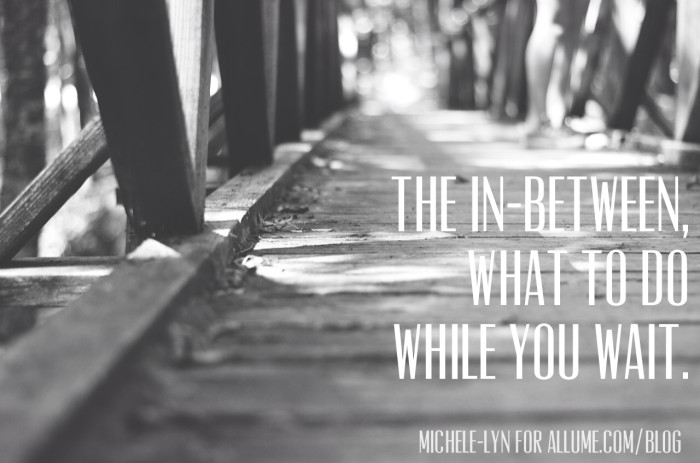 (Click here to follow Allume on Pinterest)
Let God have His way in you. Tweet this?
Our wait is the time that our selfishness is being worked out of us, as the motives of our hearts are being refined. It's where the prayers we prayed of "Less of me and more of You, God," are being answered, and our faith is being approved. There are trials while we wait, and sometimes the wait is the trial.

Sadly, many times the wait is laced with the darkness of disappointments. I often think of Joseph in Egypt. His dark abyss was a prison, yet God brought him from the prison to Pharaoh's palace, in one day, so he could help save a nation. (Gen 41) God has called us and knows our end from our beginning. His timing is perfect. Perhaps, what we consider a disappointment is a divine-appointment, a set up for the greatness God has for us.
Your faith approved is worth more than gold, friend. "…for a little while you may be distressed by trials and suffer temptations, so that the genuineness of your faith may be tested, your faith which is infinitely more precious than the perishable gold which is tested and purified by fire." (1 Pet 1:6-7 AMP)
Embrace the season with faithfulness. Tweet this?
As we are walking out our days, and working diligently to pursue our dreams we get caught in the in-between tension in our hearts. While we are living for the "future-us," we are called be faithful as the "present-us," and to  our spouses, our children, family, friends, readers we already have. Unbeknownst to us, we can live subtly devaluing our opportunities and those around, not appreciating the significance they bring to our life in this moment. And the truth of it is, the present moment is all we really have.
When we are anxious for the next step, we may despair over where we are instead of yielding to the time of waiting for all it's wondrous clouds by day and fire by night God provides for the journey. It's a balance, isn't it, like a holy equilibrium? May God find us with genuine gratitude and praise for what the day brings, while still having faith and hope for what He may have for tomorrow.
"Give yourself permission to enjoy fully the things you have, the person you are, and the life you are currently living while continuing to harbor the dreams that keep you growing and stretching into the future." — Priscilla Shirer
Focus on honoring God by offering your gifts, skills, talents and abilities to the task at hand in this moment for His glory. Your faithfulness to Him is proved in the monotony. Be completely available for Jesus. You are the image of God right where you are.
Make God the prize you are waiting for. Tweet this?
Times of waiting can bring uncertainty and doubt, but these times are invaluable ones in the valley where we draw near to God and He draws near to us, and where God becomes our everything, again.
"God births dreams in us and the allows the desire to move us; it is in the pursuit of our dreams that we encounter tragedy and meet the deeper desires that only loss and heartache can reveal. What deeper desire of our beings does God call us to discover? It is no other love and no other one but Him." — Dan B. Allender
When you desire God more, hunger and thirst after Him more, delight in Him with all of your being, until there is nothing you want more than God. When you are able to say with all your heart, with complete sincerity, and utter surrender, "It doesn't matter if I never see what my heart longs for, because there is nothing I want more than You. You are my portion, Lord, and You are all I need." Then you will see, when you least expect it, God will bring the very thing your heart desires into your life.
My prayer for you.
I pray as you go through the place you rather not be on the way to the place your heart is already connected to, walk closely with Him, not ahead or behind, but with Him hearing His Voice and thoughts about where you are. He's with you now in the journey, not at the destination — changing you from glory to glory. "Faithful is He Who is calling you, and utterly trustworthy, and He will also do it." (1 Thess 5:24 AMP)
Trusting Him,
Michele-Lyn
Will you share this post with someone who needs encouragement in the in-between? And will you share in comments, what is hardest about the time of waiting?