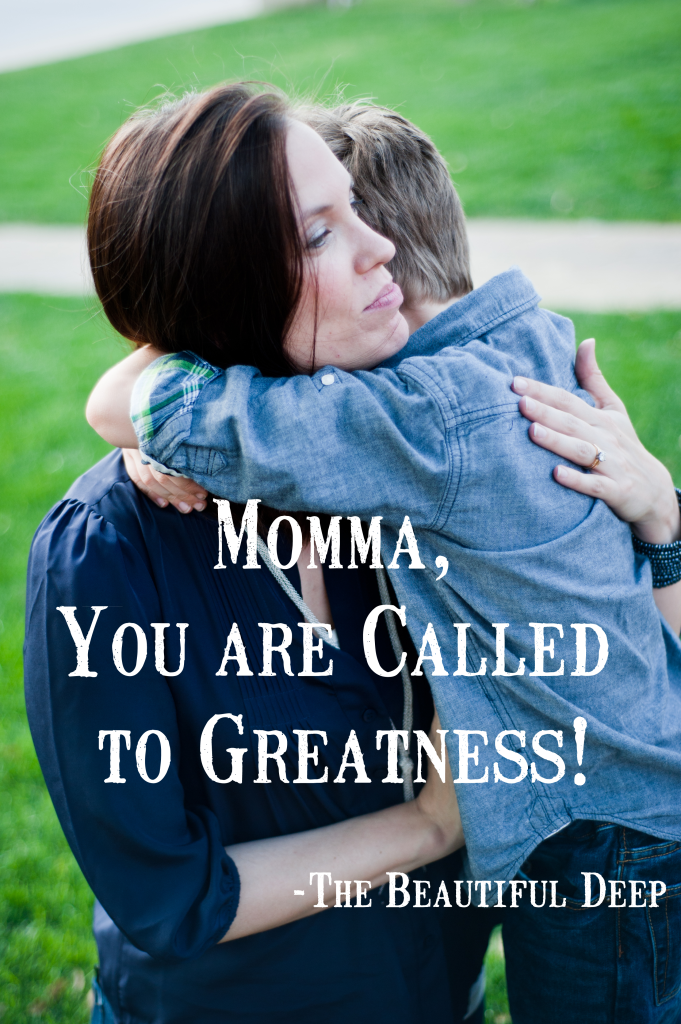 I remember telling my mom, in the the shyest of ways, that I felt like there was greatness in me. I knew that God had a calling on my life and I knew that it was significant. That greatness is in all of us who have surrendered to Jesus. His calling on each of us is a call to live with His extraordinary greatness flowing out of us.
For too long I have felt desperate, overwhelmed and have moaned about how hard mothering is. I somehow lost sight of that greatness.
I hear God calling me to wake up. I sense He's calling us all to wake up to greatness.
Yes, being a momma IS hard but we have a choice to quit moaning and being overwhelmed and saturate ourselves in the presence of God where He calls us to greatness in our homes.
We can lead our children not only to the cross to avoid hell but to God's face so that they are changed, and the greatness in them is stirred up. So that they hear Him and see Him and KNOW Him. So that He stirs up callings and giftings in their lives while they are but babes and they take their generation for Him because they had a mom who led them to Jesus. A mom who sacrificed her own moaning for an easier life for crying out to God with her children for change. A mom who didn't just bandage the hurts and wounds of her children but asked God to speak to them and waited on Him with her children in effort to teach them that this is what you do when you are hurt… you run to Him.
You have greatness inside of you. Now let it out! Stir up that greatness in your children by living a life knowing who you are and the using the tools & weapons that you have.
Be overwhelmed with Jesus and not with your circumstances.
Quit fretting about all of your mistakes and how to do it ALL and simply press in, with your children, to see the heart changes you long for, to see God's power rise up in your home and in their lives.
Pray for their friends as if your children's lives depended on it (they do). Pray for their schools as if revival is possible (it is). Pray for healing as if it's yours (it is). Ask for the things you need and watch God move in power and overwhelm what overwhelms you. His greatness is ready – waiting – to rise up in you and do great things.
You are the key momma. You! Yes, all the little things matter and God sees you serving. It's true. But don't fall asleep thinking that you can just go about your day and there isn't an enemy out there waiting and watching for a way to devour you and yours.
Rise up, oh woman of God. Rise up mighty warrior. You are called to greatness. You are called to be a GREAT leader in your home. You are a lioness who has cubs in her care. It's time to get tough and dirty on your knees before God and even in front of your children. They need to see how you fight. They need you to show them How God fights for them, how He sees them. Quit waiting for something magical to happen in you. You already have everything you need.
Do you feel it rising? It's called greatness. Now let's walk in it!
In this with you, Kristin of The Beautiful Deep