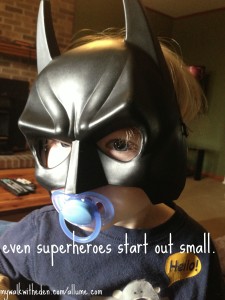 Dear little boy who stands in the hall
With a Batman mask and a Southern drawl.
You want to save the world, one cricket at a time
But only if you have your paci by your side.
You try to be brave, you reach and it leaps,
You trip and you fall.
It's okay, sweet child.
For even superheroes start out small.
***
Your brother is waiting, watching cars fly by,
For the perfect moment to ask me why
"If God is a superhero, then why do bad guys win
Why do terrible things happen, why do people sin?"
What can he do, as a little boy, but close his eyes and pray
What power does he have, to keep satan away?
Long ago, life was perfect, but then there was the fall.
Even superheroes start out small.
***
Or maybe it is sister, who laces up her shoes
Who glances around nervously to see whom she will choose
To play with at the park that day, if even the chance, what will she say?
She is nervous to share God's love with the world.
"Mommy, I am still only a little girl.
What I say can barely be heard,
From tiny whispers to ignored words".
No, my dear. Hold your head high.
For what you say today could affect someone for life.
For it is not by our own power or might that makes us stand tall.
For even superheroes start out small.
***
Or maybe it is you, mother, I hear your cry.
You stand by the sink, rinsing sippy cups and wiping your eyes.
You are overwhelmed by life, you thought this would be easy
This calling they call motherhood, this life that should flow naturally.
But when cries from nightmares and so-called spiders keep you up half the night,
And you realize the smell of peanut butter is now your kryptonite.
You traded in your Batmobile for third row seating,
And you wish you could read minds to know exactly what your husband is thinking.
***
Mother, you are a superhero, and yes, you are starting out small.
Beginning in a role in which we have no experience at all.
For the very life and breath that children bring to our hearts,
Is where those superpowers began to start.
We grow wings to fly, we see life through a different lens,
We are able to change diapers, wipe noses, and train to count by tens.
***
When the world around you mocks the seemingly small life in which you lead,
You are training future leaders, raising a generation, showing them what they need.
For the Lord grants us power and wisdom, if only we ask,
So, I challenge you, fellow mother, take off your mask.
Show the world that what you do is divine,
That our strength comes from above, that true power we can find.
Our cape may be a faded sweatshirt,
Our weaponry a shrill, ear piercing call.
Mothers, when everything around you is about to fall,
Remember: even superheroes start out small.