Did you see it?!  The 2013 Allume Agenda?!
Ok…if not, you must immediately click HERE  to open the full 2013 Agenda in another window so that you can peruse it in just a minute!
But first, I just need you to know why I, for one, am doing the happy dance!
It'd take me 45 minutes talking fast to cast the whole vision (and you'll get some of that at Allume in the flesh) but for now, just know that God has been working in a chill-bumps-inducing way over the past several months.
A few months ago, the Lord gave me a picture of an underground river.  It was bubbling and moving forward…yet, it was underground.  And then suddenly the river came into the open.  It broke through rock and earth and spilt forth…moving fast and branching off to cover all over the earth.  And then I saw a bright light…and it was a line that was just positioned at the cross-section where the river left the underground and came into the light of day…and the Lord said…"this space, this place where the bubbling bursts forth into the earth…this is Allume."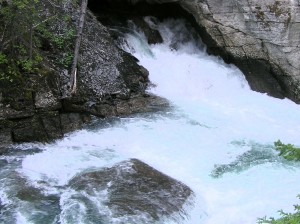 Every time I recount the picture and the words… I cry.  God is moving friends.  He's moving in each of you now, and he's moving in what he's planning to accomplish at Allume.  And when we all collide together in the same time and space, the work that He is doing, and the work that He will release is like a mighty rushing river of Kingdom awesomeness.  It makes me excited.  It gives me chills.
I'm excited about the things you see in the agenda listed with times and dates and titles, but the thing I'm most excited to see is what God does in the in betweens too.  I'm excited to see the way he weaves the words of the keynotes, and teaches and inspires you with session speakers.  I'm elated to watch you all connect and love one another in that special way that it happens at Allume.  I'm blessed to have not just reached out to compile a list of speakers, but to have been building relationships with these Kingdom of Heaven World Changers, and I can tell you with every bone in my being, that the words the Lord gave to Sarah Mae, Jessica, and I back in November are coming to fruition.
 "Behold, I am doing a new thing; now it springs forth, do you not perceive it?  I will make a way in the wilderness and rivers in the desert…for I give water in the wilderness, rivers in the desert, to give drink to my chosen people, the people whom I formed for myself that they might declare my praise." –  Isaiah 43:19-21
Our dear friend, Ann Voskamp, will bring a fresh word, as only she can, and open our hearts on opening night.  Melanie Shankle will make us laugh til we cry, and cry til we laugh just before Jennie Allen moves us with truth and life and reminds us how 'faith is the is the assurance of things hoped for, the conviction of things not seen."  Bianca will arrest us with passion, and Jeff will move us to live bigger and more authentically than we'd ever dreamed.
Our incredible sponsors will pour into you and help show ways that you too can pour out.
Our hope and prayer is that your time at Allume will equip you, empower you, refresh and refuel you, so that you can leave and walk taller into the callings that God has for you (and for your blog.)
We invite you to come spend time with us for a weekend of life, and friendship, community, and awakening.  We can't wait to see what God has in store for us all!
So now, if you haven't yet looked at the whole incredible lineup yet, go….HERE!
And if you still need to snag your ticket, go HERE!
All our love,
Logan, Sarah Mae, and Jessica