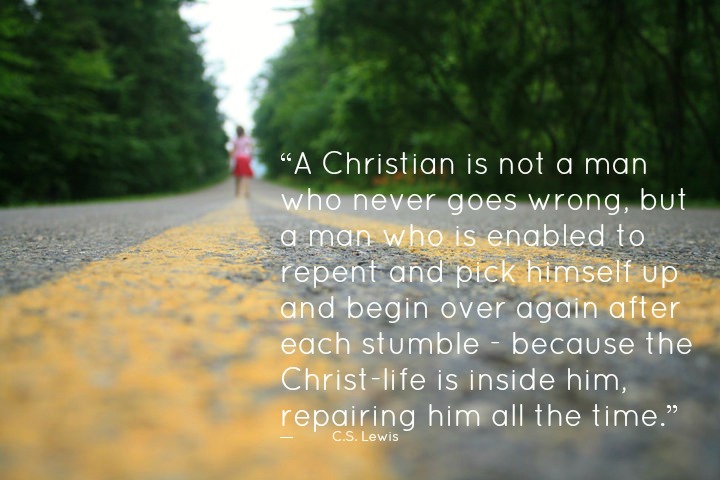 Her eyes would not connect with mine, and I knew it was serious.  This place of struggle was not foreign to me.
Life's demands had caused me to sacrifice my testimony and justify my attitudes of frustration and anger at many moments in my life…more so as a wife and mother.   My precious daughter was now caught in the crevice of worry and frustration over her own choices.  When will I get this right mom?
I knew that this would be the pivotal moment of truth in her life.  When she can see deep within her soul, the need to hold onto the secret to the Christian life.  To yield our emotions, our lives and our thoughts – to Him.
A supernatural response – where the invisible faith we build on each day, becomes visible and tangent.  Real.
Because, sometimes we stumble, but He keeps us moving. And that is the gift of the invisible.
We cannot live this life in our own strength.  There are so many moments as a Christian, a light-bearer, a mother, wife, writer and friend, that I feel my light being snuffed out dim by a weariness of the little things in life that too much time is spent on worrying about.  Trivial discussions about matters that aren't important to Jesus, negative relationships, or a competitive spirit within the on-line world.  It is a waste and it causes me to sometimes stumble in my thoughts and time.
And now, I rub her back, and speak His words into her, proclaiming the truth that life will give us demands, and our reactions will reflect how our faith has been doing a great work in us.  An active and living faith, that will change our lives and our perspectives.
Now the pools of tears in her green eyes are overflowing and asking me, "Mom, when will I stop stumbling?"  Oh, my dearest child – When you see Jesus face to face.  In His fullness are we made complete.  Until that day we abide in Him, and know that He who began a good work in you will be faithful to complete it.
And this is how the stumble makes our feet more straight and our paths more clear.  By faith.
Every trial and every day that we live in our own strength will reap an empty faith tank. No source to draw on down the road.
For God had a beautiful gift wrapped in an ugly package for me this week.  Only He would orchestrate such a finite happening.
A conflict.  At the end of a long weekend, and a time-consuming conversation with another person, I was left bewildered at my lack of frustration, anger, dismay and found myself in awe at what God had just given me.  While laying in bed, talking to God, I saw it – the well of faith, the praying through the years at the sound or site of conflict – had brought me peace this very night.  I felt as if I had picked it up, and gently ( not forcefully) handed it back to God.  Able to sleep, not anxious about what someone thought of me,  or what the outcome might be.  Where did this supernatural reaction come from?
Many years of stumbling through this area in my life and continually giving it back to God, begging Him to make it right, with worry and fretting and frustration.  And now the gift of reaping – not reacting, or feeling the need to "be right."  It was a habit of trust, and control of the spirit.  And now, I knew peace.
Whether I am in a trial, tired and weary, or stumbling through this sinful nature each day, I know when I walk by the spirit, I will not carry out the works of my flesh. Galatians 5:16
Sometimes we will stumble – our faith will be shaken and tested.  What will you cling to?
 The Vine or the branches?
Written by September @ One September Day