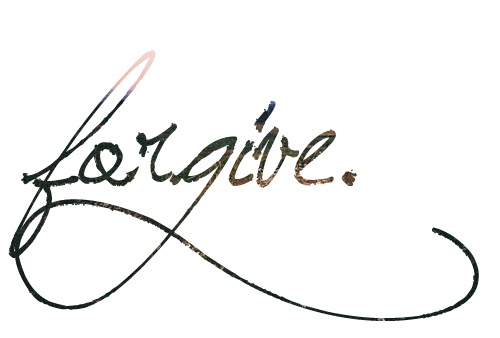 Forgiveness. It's a word that's been so hard for me to say, let
alone act on.
Coming from a world of hurt when I was a child, I grabbed up
my heart, worked hard to build walls, and set up camp right in the middle of
bitterness.
I let no one in. 
I thought Jesus was as mad at me as my past was. I didn't take the time to get to know Him, or even think about what salvation was.
I lived for myself. I hid behind people. I didn't grow into
my skin. I looked for answers in the wrong places. I didn't bury my past- I let
it define me. I let it reach in and take hold of my gears and rule me.
A few years ago, I got so blessed when I found my husband.
Both lost souls looking for something more, we found Jesus together. It took
hard work, and lots of prayer, but we made it. We held each other accountable.
We held one another up. We prayed for one each other. We weathered the storms.
God started working on my heart the moment I fully surrendered. I wanted so
badly to be free of my chains. The binds of the past.
My full circle moment came the moment my first born was laid
in arms. I was scared to death to be a mama. After all the hurt I had been
through, I didn't know if I would be maternal. I didn't know if I had the gene
to be selfless. But you know when they say you just know when changed? That day
I never looked back. God's purpose is for me to be a mama and wife, and it has
utterly changed me from the core. 
Do I still struggle? Everyday. I am working
hard to prove who I was wrong. I needed to forgive. I wanted to show my
children that their mama did what was right for Christ. I still felt an ache in
my soul, a part of me that couldn't grow. I still had work to be done.
Forgiveness is a journey. It's a hard, in your face voyage.
One that you have to do alone. Nobody can forgive for you. I had to go back and TELL people I was sorry, and I had to tell some
people "I forgive you". At first I didn't want to, the old part of me
wanted to run and hide, scared and in fear. But we don't have to fear in
Christ. We can be redeemed and be brand new in Him. My first steps of deliverance
has been to say out loud and act on
forgiveness. It's a state of mind. A tough battle you must win by being
brave. A chance to get it right and leave it, truly, behind. To start new.
It's taken 26 years, but I am just now beginning to grow
into my skin.
The skin of Christ. The skin of love. The skin of forgiveness.
The skin of repentance.  I had to leave my old flesh behind.
I had to peel back the layers and dig in, to find who I
really was, and what I needed to do to be brand new in Him. It was worth it.
Every "I'm sorry" and every "I forgive you" no matter what was done in the past.
Facing that fear, and then realizing it
wasn't so big and scary to begin with. Letting
it go. For good.
Today, God is still working on me. I am a work in progress.
I fail, slip up, but I know that I have a God that forgives me in an instant. I
am so grateful. That is the lesson I am forever learning. Instant love.
Because, He first loved us.
This means that
anyone who belongs to Christ has become a new person. The old life is gone; a
new life has begun! 2 Corinthians 5:17
Ashley is a southern girl living in the beautiful state of Tennessee. Her husband, Walter and their 2 baby girls are everything to her. You can most likely find her in her kitchen. God, her family, cooking, homemaking and drinking coffee is what is most important to her. She is a simple girl writing for Jesus. You can find her
here
.