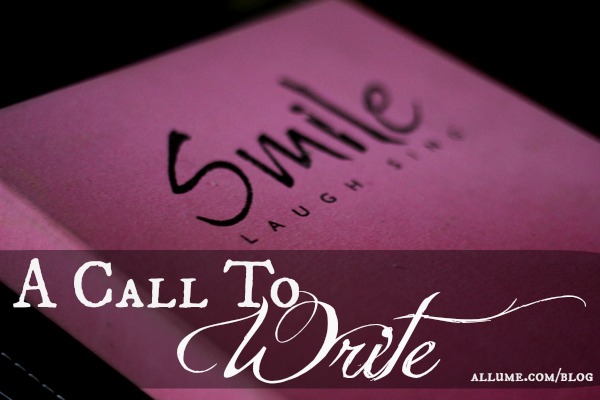 The email came late one afternoon, the one that began, "I'm sure you're incredibly busy but…" and continued to offer a plea for help. I want to learn to write. 
She talked about life with three little ones and the need to have a written history of the moments. God teaches me stuff through my kids all the time and I want to write it down or I'll forget. 
It struck me, again, how powerful the written word is. Just sketches of moments, the reminder that God was real and present.
Like the year that I wandered in depression, fighting infertility, and feeling lost and abandoned by God. I kept a journal. This bright pink notebook that said SMILE on the front, a mockery of my inner turmoil. I scribbled words in huge letters, screamed prayers into the pages, and left tear stains that smudged the ink.
I thought God was silent. I really, really did.
Until I pulled the notebook out years later.
My husband came home that afternoon, several days into my book writing process, and found me on my knees, rocking back and forth, hugging a bright pink journal. His eyes widened in that, "Oh, no" look, and I started laughing and blubbering and wiping snot and tears as I tried to explain.
He was there.
God was there.
Even when I was blind and deaf, He faithfully stood in the middle and spoke. And He enabled me to write the words, even when I couldn't hear or see them. The pages are filled with me crying out to God and God answering. I literally have no memory of His answers but they are all right there, written in my handwriting.
It astounds me what God does through the written word.
Write, dear ones. Write your struggles and your victories. Write about the moments that you feel God speaking, and write through the moments when you don't. 
Maybe in five years it won't mean anything at all. But maybe it will.