She always asks me, "You and me forever, right mom?" I assure her that yes, indeed, it's me and her, forever.
We all want to belong to someone, don't we?
It's easy as a single parent to sometimes feel like I belong to no one. My daughter, she's at home in my heart. But me? I feel the loneliness creep in with a heavy silence, long after the child's play and songs have gone quiet into the night.
Confession: I snuck out of church a few weeks ago. I stepped off stage from leading worship, and when all greetings stopped, all backs were turned and all eyes were looking forward, I took my exit to the door and found a brick wall on which to sit. Sometimes I can't handle all the couples coupling up. All the seats taken. All the places I feel unwanted or don't belong. Sometimes it all feels a lot worse than it actually is, and when it does, I need to get fresh air and clear my head.
And it was that kind of morning.
Outside on the city streets, I didn't feel as alone as I did inside a room of several hundred people.  I don't know if I can blame it on being single, divorced, being in a city without any family around, being friends with lots of couples, or what. I don't think I should blame it on anything really. It just is. And every so often, it feels like I no longer belong anywhere, with anyone, to anything.
Even Mother Theresa said — "The most terrible poverty is loneliness, and the feeling of being unloved."
So I sat on the brick wall outside of church, and watched the cars, the people, the city move on a brisk Sunday morning, and tried to regain some control back on my emotionally spiraling heart. I moped, really. I gave God the silent treatment, and let the tears flow.
As I did so, a woman wearing ragged clothes and no shoes passed slowly by in her wheelchair, and stopped in front of the other church that sits right next door to ours.
She rolled to the front of their steps and began shouting at the closed, metal doors.
"Hey! Hey! Anyone still there? Hey!" Her voice echoed off the stone building, and no one gave a glance, except for me it seemed. I watched her wheel to the side of the building, and she continued to shout vehemently, banging on the side door with no response. I knew what was coming. I felt the awkwardness seep under my skin. She turned to me.
"Hey you! Will you go in there? They have food for me and I'm late." I hopped off the brick wall and walked toward her. She continued, "I blew a wheel out this morning," she gestures toward one of the front wheels on her motorized wheelchair. "Another guy in a wheelchair helped but now I'm late. Will you go in and ask if they still have my food?" Food that they give to the hungry. Bakery leftovers. Day-old rolls.
"Yeah," I said and walked up the steps, into the inner city church. A man brought me to the basement, grumbling about how the woman outside was almost too late, and "lucky for her", handed me a few bags of food and sent me on my way. After delivering the food back to the woman on the street, she gave thanks: "God blessed me today. On behalf of me and my daughter, thank you. Thank you." And she went on her way.
And like a ton of bricks, the Lord cut to the quick of my selfish, self-centered heart. As if he wanted to quickly answer my teary-eyed questioning of, "God, I don't feel like I belong to anyone."
"You belong to me," He said. Fast. Fierce. Jolting me on the city sidewalk, and causing that familiar lump to rise in my throat. I felt the closeness of a kinsman redeemer, reminding me that my place is with Him.
You belong to me which means sometimes your seat is not among your peers and friends. Sometimes it's on city sidewalks. Sometimes, even when you think you're running away from me, you're actually running toward me.
You belong to me which means the people I love are the people you love. The ones who belong to me, should belong to you too.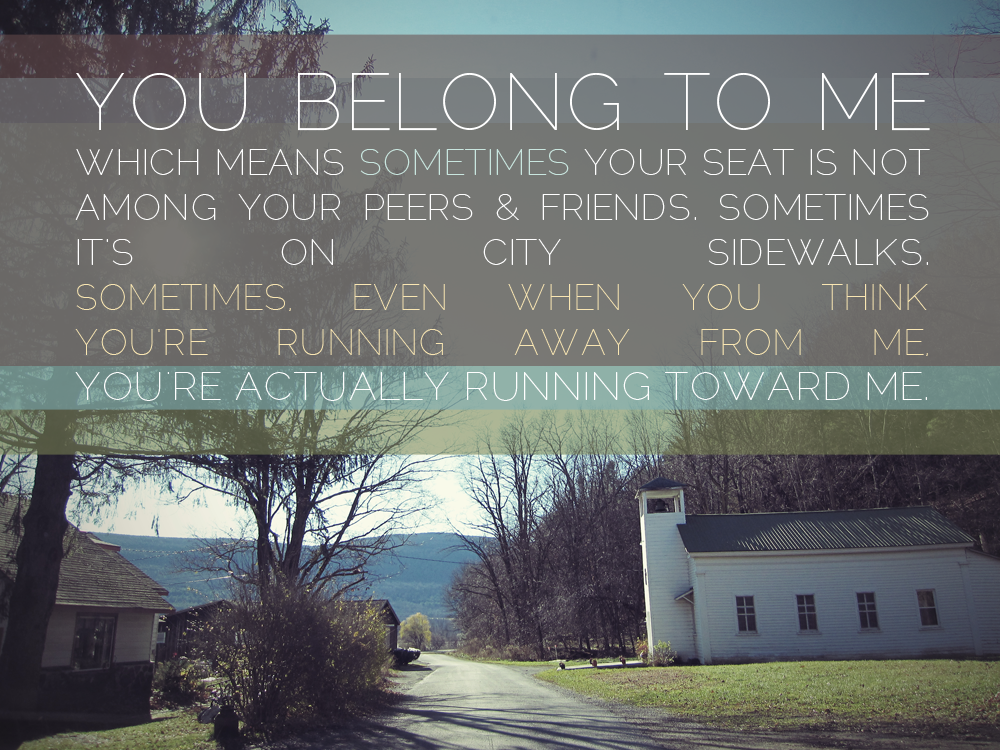 It's amazing to me how in a moment when I wanted to use my sorrow as a defense against openness and community, God wanted to use it as an inroad to brokenness and humility. I made my way back indoors to my church family, and looked around. The belonging I ached for wasn't a person, or a chair, or a face. It was that steady, Gospel-truth reminder that I've been bought with a price that I cannot repay. That in all of this life, I belong to something, Someone greater. My soul ached for something, and I labeled it loneliness with my flesh, but it really was disbelief in my position in Christ. I didn't need back-patting encouragement; I needed Gospel-realignment.
This morning my daughter asks me again if we're a family. "Yes love, we are." 
"We belong to eachother, right?" she says wistfully. And I say yes, feeling my heart creak open to the reminder again that we are His. Our words. Our stories. Our seats. Our homes. We belong to Him. The kinsman redeemer. The one who places us within our boundary lines. The one who builds families, answers prayers, and also binds up broken hearts and leaves the 99 for the one.
We belong to Him.