If I were to wait for inspiration to strike before I wrote anything, I would rarely write. No doubt inspiration can play a role in writing, but it shouldn't be the only time we write.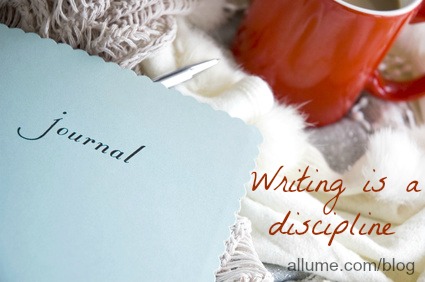 Writing has many facets–it's freeing, yet it requires a bit of discipline. It can also be painful, depending on what you feel the need to release. Sometimes our lives feel less than inspiring. Sometimes they may feel murky, messy, and even mechanical. But someone out there needs to hear that story for encouragement in their own lives. 
In order for us to become better at writing and teach the words to flow, we must practice. It's like a muscle–if you exercise it, you will strengthen it. 
On the other hand, good writing requires that we step away from writing and live, so our words will ring true for us and others who might read them. We cannot fully express the beauty and reality of our words if we do not first experience the reality of living. Nothing can convey through the written word truth of feeling and expression quite like authentic living.
In addition, good writing begs us to read others with excellent writing. It entices us to read books like On Writing Well, to learn the best mechanics and writing practices. It calls us to inspiring reads such as A Circle of Quiet, where we enter into the minds of great writers as they walk us through quiet inspirations. 
Writing is a life long journey. Publishing a book doesn't mean you "arrive" and not publishing doesn't mean you are not established. Our writing may never get passed our own blogs, but it is out there, published for all to see. It is right where God wants it, for His purpose.
Your story might be one of pain, rather than inspiration. Allow God to redeem that pain and use it for His glory. What is He whispering to you today, friend? Is He asking you to step out in faith and trust Him with your words? 
 Is He calling you to embrace the writer in you without guilt or fear? 
Joy in Christ,