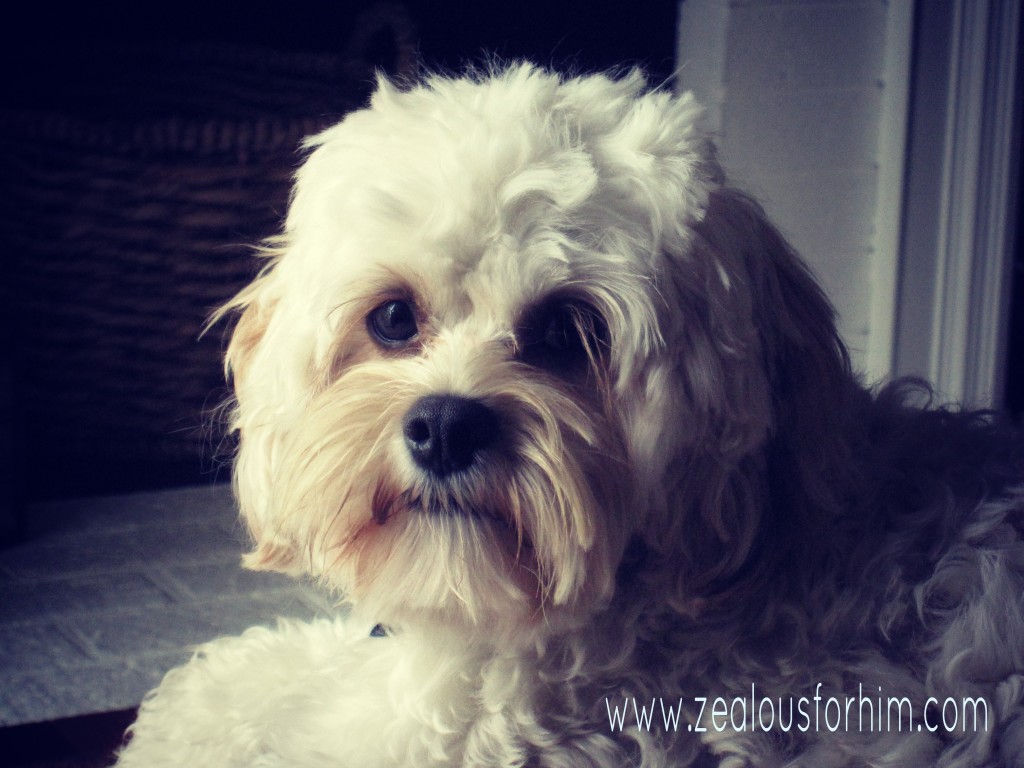 From my writing desk I can see my dog's food and water bowl. The other morning I was deep in writer's heaven (you know, those days when the words just flow from within) when I was stopped in my tracks by the sight of my pup enjoying his food.
He approached his bowl, ducked his head down inside and pulled out one kernel of food. He took a step back and set that kernel on the floor right beside his bowl. He looked at it for a second and then savored that one kernel chewing it to dust. A few moments later he went in for another kernel, and then another. Each time he would savor his food; sometimes stopping to look at it, other times closing his eyes as he took in the taste.
As I stared at him I was amazed at the care he took with each kernel. There are times when I've seen him hoover his food, downing the entire bowl in one big gulp, the flavor barely registering. This time however, he was delicate, careful even. At one point during his meal he looked up and noticed me staring, but he didn't let my presence distract him from the enjoyment of his food. He savored every last morsel.
As he walked away from his empty bowl, full and content, it hit me. This dog savors his food better than I savor mine.
I'm not about talking about the breakfast I had just finished, I'm talking about soul food, I'm talking about the Word of God. My pup savors his food, one kernel at a time, how often do I stop to savor the Word of God one verse at a time? How often do I stop to deeply study the Word of God as my pup studied each kernel of food?
Oh, how often my fast-paced American ADD mind gets the best of my time with Him! I tend to hoover the Word of God into my mind before I run out the door. I tend to miss the flavor of each kernel because I'm in such a rush to get that chapter, or that book, checked off my study list.  I'm so easily distracted by my Christmas shopping list, that fun new decor project I dreamt up last night, or the handsome husband in the next room instead of fully focusing my heart on the richness of Scripture.
In the midst of this Christmas season – a season where our hearts should be dancing in the beautiful Light of our Savior, I'm choosing to refocus. I'm choosing to set aside the worldly distractions that keep me from savoring Him, and I'm going to be more intentional. I'm going to savor each kernel of His Word.
Here are 5 practical and intentional steps I'm taking to allow for more focus during my time spent with my King;
1. Turn my cell phone, ipad, TV and computer off.
2. Find a quiet, distraction-free zone where I can focus.
3. Bring a piece of paper to jot down things that I need to remember that distract me–if I write it down I won't obsess over needing to remember it–and then I can fully focus on Him.
4. Sit in a chair that won't allow for me to get sleepy and day-dreamy (this has been happening so often lately!)
5. Journal my thoughts and "light-bulb" moments – this helps reiterate what I've learned.
 Do you struggle to slow down and soak up the Word of God?
What practical steps do you take to stop and truly savor the Word of God?
By, Mandy Scarr at Zealous for Him