So, Allume has passed, and I'm still finding myself pondering some of the same things that the Lord has had me pondering for months now. Much of it, I shared in my session at Allume on Blogging as Discipleship.  I'm going to share a few snippits from that session below, but if you want the full on thing (complete with Monty Python impersonation) then you can download my session, along with the whole bundle of almost 30 other incredible speaker sessions HERE!
*          *          *
I've always been a people person. I am an extrovert if there ever was one, but I think the proverbial "lights came on" in my mind when I realized something years ago about myself.
I love a good party. I love to plan them to the enth degree….to decorate…to create atmospheres and environments where people can just come and have a good time.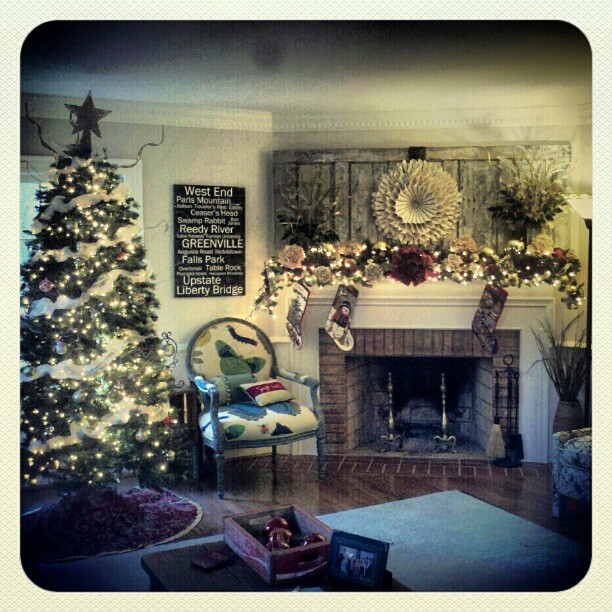 I've been decorating for Christmas, as I'm sure many of you have been as well.  We'll host a Christmas party this year at my home again, and so the decorating gets amped up a notch.  It's even more fun to go to great lengths when you get to share it with others.  But… as much as I love to create and prepare, in the end…none of that matters to me as much as the people who walk into my home. When the first person walks through my door, worrying about the environment is done…and the people are what's important to me.
And my blog needs to be the same way….
The blog has to be about the people reading. And whether we have 50 followers of 500,000, we ALL have the opportunity to impact lives.
When we blog, most of us all have little buttons on the side somewhere for all the myriad ways that people can follow us. They can follow us on Pinterest and see what we think is beautiful or interesting. They can follow us on Twitter for little snippits or links to what is going on with us in 140 characters or less. They can follow on Facebook, or subscribe to receive our posts in their email. We welcome "followers," and sometimes it can even be easy to get hung up on if we have enough of them or not.  A disciple is by definition "a follower…a pupil of a teacher."  But my question to you, and to myself is, "What are we asking people to follow?"
Jesus said in Mark 1:17, "Follow me, and I will make you fishers of men." So if we're following Jesus, wouldn't it be fair to assume that our blogs would reflect that somehow?
I'm not saying that means we should all write devotional or spiritual blogs all the time either. Some people are gifted to be able to do that all the time, but some of us are called to make disciples other ways too.  
They say that people are the happiest when they're giving themselves away. So I want to encourage you to give of yourself from your areas of giftedness. Give of your talents, and your passions, your wisdom, and your struggle….give them all to the glory of the King. Invite people into your journey…into your creativity….into your elements. Chances are if you're blogging, you've got a few followers….and whether you realize it or not, you are making disciples.  We have the privilege of sharing our journeys, our daily living, the funny, the mundane, the beautiful, and even the hard….all to the glory of our King.
Our lives tell our stories, and I believe that the world needs to see what authentic journeys with a loving God look like. The journey is the guts of a story and what makes the testimony in the end hold weight.  It's following one story that starts in the hard of here and ends in the peace of there. And the thing I've realized is that what God does in one life…in one journey, he can do in thousands.
We write. And we have a voice that has the capacity to reach farther than voices have been able to travel in all of history.  And, there are hungry people out there. People are hungry for authenticity, but not just a boldness without a filter….people are hungry for what is real. People are hungry for a journey that leads them to peace and truth in the end.  
Jesus himself said "Follow me..and I will make you fishers of men." People are following….so the question then is "Where are we leading them?"  And if somehow in the end, they don't catch a glimpse of what it means to be discipled….to be led in love….then what are we doing?
My dear friend Kristen Schell said to me in a conversation before Allume when we were talking about fishing for men, that "the call is to be fishers…the Lord will provide the catch." We are simply a conduit ya'll. The glory is to the Lord and so is the haul.   The question is, will we drop our nets?  
Image Sources: 1)My living room from www.LifeforDessert.com, 2) Fishing Boat on Flickr