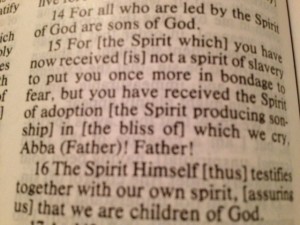 I'd like to tell you a brief story about a young lady named Avery. She worked in the most respected and desired company in the nation. Everyone wanted to work there.  Avery was the ideal employee and co-worker. She worked hard and met every need of her assignment. She made sure she understood her bosses needs and made sure she pleased him. She asked what was expected of her and make sure to exceed those expectations. Because of that she was successful in everything she did. Like most young ladies, she wanted to climb the corporate ladder so she looked for opportunities to prove she was worthy of promotion. She was very smart too. She would access the risk of a situation well and if it was too high she wouldn't go that direction. She made sure to invest in the right relationships so to yield a good relational return as well. She would also find the shortest way to gain the most success. Her supervisors loved having her work for them. She would honor them by obeying their requests. They didn't even mind that she did a bit of brown-nosing to earn their favor. But, Avery had one large problem.
She forgot who she was. She was the heir to the company. Her Father wanted her to just be faithful but she wanted to earn it. 
I wonder if you see a problem with the way Avery worked.  We'd say, "Good for her she isn't spoiled! She's proving she's worth giving the company to!" What could be wrong with it? She didn't have to do those things to earn her position. But she was proving her worth instead of knowing who she was – the daughter and the heir.
Sometimes we act just like Avery in our Christian walk.
Read the story again and think of the boss and company as God in his Kingdom and Avery as you.  God says are are daughters and don't need to earn anything. He has a storehouse of blessings for us and we need to 'freely" receive. I believe we are hammered by the world's way of thinking like a slave instead of having our minds renewed and thinking like a son. (daughter)  
Many of us are still acting like slaves  – trying to earn our way into God's heart and achieve the approval of man with good works. 
Jesus came to earth to set you free of sin so he could reclaim for the Father his lost sons and daughters. Not to make you a slave to become righteous but to declare righteousness over you! You are no longer a sinner but a son. All powerful God could've just snapped his fingers and redeemed you. But, he choose to show you the value of who you are by sending his own Son to get you back. God did not find it too great a cost to send Jesus for you. YOU ARE VALUABLE!
Sometimes our prayers are hindered because God won't answer a prayer that keeps us enslaved. 
If you aren't sure this applies to you evaluate yourself based on the characteristics below. See if you think more like a slave or a son. (Or message me for a PDF version) Maybe I'm the only one that needed this litmus test. But, I needed to be reminded that God says, "Even on your darkest day I didn't lose sight of who I created you to be. I never forget who you are. I'm never mad at you and I can't stop loving you because love never fails. I know your identity, destiny and created value. I love you for who you are and not what you do."
Spirit of Slavery                                                                                          Spirit of Sonship
A slave is accepted on the basis of what he does ………………………….  A son is accepted & appreciated for who he is
Purpose is to meet a need …………………………………………………….. Purpose is to grow up, find God's purpose & fulfill it
Seeks comfort & happiness …………………………………………………… Seeks fulfillment
Starts the day anxious, worried wondering if his work will please ……..     Rests in the secure love of his family
Expected to be successful …………………………………………………….. Expected to be faithful
Needs to prove his worth ……………………………………………………..   Status is secure
Runs from pain …………………………………………………………………   Embraces pain strategically
Gives favors "You owe me" ……………………………………………………  Shows favor and HAS favor
Avoids problems ………………………………………………………………..  Sees opportunities in problems
Talks about self …………………………………………………………………  Talks about team & sees bigger picture
Expects more from others than self …………………………………………   Personally raises the bar on self
Intimidated ……………………………………………………………………..    Walks in confidence
Manipulates for recognition ………………………………………………….   Rests in position
Directed by commands ……………………………………………………….  Directed by love
Worships because of duty ……………………………………………………. Worships because of love
Worships to earn God's favor ………………………………………………..  Worships because HAS God's favor
Worship is structured …………………………………………………………. Worship is spontaneous
Extends honor upwards ………………………………………………………. Extends honor downwards
Obey's orders …………………………………………………………………… Solves problems
Sees cost in failure …………………………………………………………….. Sees benefit in failure & learns
Seeks immediate gain ………………………………………………………… Sows into future  
I have an exercise for you!  (I can't help it….it's the teacher in me.) I took some of the areas that are a challenge for women and wrote out a positive declaration. The reason I did this is because whatever we focus on we give power to. I didn't want to give more attention to the slavery ways of thinking by saying don't do this or that. So, I wrote the opposite. Do this for yourself based on the areas you find you want to think more like a son. See my example below.  Don't be a slave this Christmas….be a son!  
Declaration:
You know God has great plans for you and are excited about the journey. You seek God's heart and desire to find ways to fulfill your destiny. You are wise and seek the Fathers heart to be at peace with everyone. You look for ways to make things better for all men. You are others focused and a generous listener. You love a glass empty so you can find a way to fill it. And if some spills you find a new way to fill it up again. You are full of hope. You are a willing student and God loves to teach you. You have every reason to walk in confidence because you are highly favored by God.  Even your enemies are at peace with you. When you wake up in the morning God is pleased to see you. Nothing you can do will make him love you more. Nothing you fail to do will make him love you less. You are wonderful at honoring those that work along side of you and the less fortunate. You do it without thinking and God sees it. Your perseverance is one for the record books and noticed in heaven. You are patient to wait for God's best and because of that He is going to reward you. You are his daughter! 
A Grace Journey with Jill Monaco