Mama was solid. Unchanging with seasons or my emotional upheavals.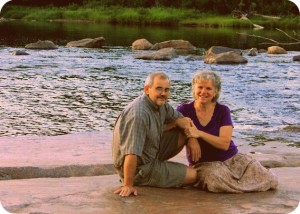 She wasn't glamorous, though she was beautiful. She wasn't someone to admire from afar, she was the one you wanted to stand closer to and share life with.
We lived in Alaska at a tiny Bible School and my parents were in charge of the Student Ministries team. Mama made the role sparkle. 
She sang the "Chiquita Banana" song while standing on a table in the middle of dinner, while everyone else rolled on the floor laughing. She would dress up and acquire outrageous accents, sing hysterical made-up lyrics to popular songs and bring down the house with her stories and jokes.
I wasn't much like my Mama. I loved her. I always wanted her around. But my personality was so vastly different that I knew I would never be able to step into her role. 
So instead, I created another, different, "better" role to fill. I devised a sophisticated, tall (I really was tall for my age at one point in my life) non-frizzy haired, model Christian that existed only in my head (or at a great distance).
Mama would whisper things to me at times. Things about God calling us to not fear and about using gifts and not burying them in hopes of something different. I didn't always listen very well.
At some point along the way, I came to a few startling realizations:
número uno: I'm too short to be tall and sophisticated. I'm 5'3 and will forever be 5'3 (or shorter as I age, I suppose)
número dos: While I'm capable of straightening my hair and pulling off a Pantene-commercial style for a night or two– my hair is, and always will be, wild. Curls that zing and snap and frizz right up in humidity.
número tres: It's true that I'm not my mom. I don't sing goofy songs (very often) and I don't dance on tables (at least almost never).  But I do have my own funny quirks. I can tell outrageous stories about ridiculous things that I've done or noticed other people doing. And I can drop down to the level of any child in the room and convince them that I'm the most fun ever with a few winks and handfuls of dirt.  (Sophistication just doesn't match stained clothes and stories about that one time that I decided to face off with the new heifer and ended up on my backside in the manure pit.)
The truth is that even though I heard from the time I was little, God made me unique, I still doubted and still felt that I needed to measure up to something else. 
And another truth has become glaringly clear: it's all about fear. 
The only reason I want to look a certain way, or be perceived a certain way, is because I fear what people will think of the real me. What if a quirky short girl with frizzy hair isn't someone anyone will like? What if people look at me and find me childish or immature or [fill in whatever fear you may be battling]?
I keep going back to the verses that Mama quoted. In 1 Peter 3 there is talk of the things that make women lovely in the sight of God. The chapter that talks about beauty not coming from outward things but from the heart. And Sarah, of old, who was beautiful because of obedience. And then. It's the verse that Mama repeated over and over into my ear.
"You are [Sarah's] daughters if you do what is right and do not give way to fear." (I Peter 3:6)
I will never be able to fill anyone's shoes but my own and I will never be confidant or content unless I am walking in obedience to Christ. In obedience, I am beautiful and I have no reason to fear. 
It can be easier, at times, to hide behind a computer screen. Especially for writers. And in the stepping out– fear can appear in full force. The enemy would like nothing more than to keep you cowering or trying to be something different than what you were created to be.
I won't make it to Allume this year (Amazingly, there isn't anyone begging to do barn chores for me. It's like they don't trust their cow-fighting skills or something.) but my prayer for all of you who are going is simple: be obedient to Christ and be real. 
Everyone will love you, I promise.
And I'll be expecting all kinds of wonderful stories and pictures (and if anyone knows the Chiquita Banana song, well…).
by, Natasha