I bought trouser jeans because a blogger said they were cool. I figured if I was going to be in a conference full of bloggers that I read, but actually did not know, I needed to look the part. And here I was, in the Old Navy dressing room, buying a pair of pants that I did not understand because a blogger blogged it.
I also bought a blazer. A navy blue blazer.
Because I had a finished book proposal. And I figured that if I was going to sign up for important adult meetings, I should wear a blazer. It was time to talk about My Book and to see who would want to publish it and how quickly they would want to give me money for it and by the way,
could I get that in $20s so I can fill a bathtub with cash? Thanks.
I was nervous. But I was confident. All joking aside, I felt like God has given me some words to share with teenaged girls and my trouser jeans and blazer were going to convince the publishing people of that as well.
I'll get right to it: I didn't get a book deal at that conference, though I will say that I looked sharp in that blazer and minimally sequined top. But I got a lot of other things that made the weekend beyond worth it, in time and money. Let me make a list for you.
1. A Twitter handle. Yes, at that conference, @annieblogs was born.
2. I got to meet some bloggers/writers that were very influential in my writing life.
3. Friends. I didn't let myself scamper away to my hotel room between sessions (even though I wanted to because I was a scared little puppy) and my life, for the last five years, has been all the better because of the women that I met that weekend.
4. Inspiration. I still look over those notes, from that first conference. I remember the things I was taught- from the importance of having a solid brand across platforms to the importance of having a solid foundation of truth under you.
Five years later, and a handful of conferences to boot, my book Perfectly Unique is a real hold- in-your-hand book. Thanks to Zondervan Publishers, I have gotten to share the words that God put on my heart those years ago with lots of women. And I get to speak next weekend at Allume about the power of writing in the season you are living.
So for you, my bloggy friend, I say keep going, don't quit. Buy the skinny jeans and get your business cards ready. Bring your book proposal or your next great idea or your brainstormed plans. This may be the weekend that God changes everything or this may be the weekend that sets you up for the next big thing. Or, this may be the weekend that you meet a lifelong friend.
And to make it a bit easier on you, I'll start.
Hi. I'm Annie. I'm glad we're about to be friends.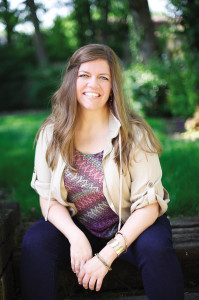 Annie F. Downs is a writer, teacher, speaker, and blogger based in Nashville, Tennessee. Flawed but funny, she seeks to highlight the everyday goodness of a real and present God. Along with her blog, AnnieBlogs.com, she has written for various print and Internet outlets, including Susie Magazine and monthly contributions to www.incourage.me, a women's website run through Dayspring. By weaving together personal stories, humor, and Scripture, she invites the reader to experience a fulfilled life with a living God who loves deeply. Annie is a huge fan of the Internet, singer/songwriters, waffles with peanut butter, and sports of all kinds. Visit AnnieDowns.com or her Facebook page to find out more.