I love the heart behind Allume — that we as sisters in Christ would spur each other on to shine His Light into a very dark world. But let's be honest. Some days I don't feel very "bright." In fact, some days my emotions tempt me to believe that there's barely a flame flickering.
But that's just what the enemy wants us to believe.
I say it often, but my spirit needs it repeated over and over.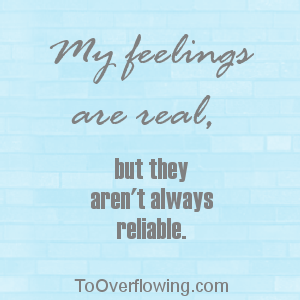 They're real — they can take us to the ground in seconds or cause us to jump for joy. Figuratively speaking…my post-baby body doesn't actually like it when I jump a whole lot.
Feelings are real. They affect our response and change our expressions. But they aren't always reliable. They don't always line up with what God says about us. They don't always agree with His promises over us.
So the next time we don't "feel" like we're shining His light very brightly, let's remember a few things.
We need each other! We need to accept the encouragement of our sisters; which means we need to be authentic.
Preach truth to ourselves. The laundry room is one of my favorite places to take my emotions to Him. Or maybe it's just one of the few places where I can get alone. When our emotions fly around all crazy, our spirit has to remember what's true. So let's preach it.
Rest in grace. I love that God remembers our humanity. He's so tender to His daughters. Feelings will come but He gives grace. He allows us space to grieve, and then He graciously lifts us out of the mire as we set our hearts towards Him.
Choose thanksgiving. We all know that sweet Ann inspires this so beautifully. Choosing thanks changes our perspective. Choosing thanks empowers us to press on in faith. Our God is always lavishing His good things upon His own.
The truth is, if we are His then His light is in us. We just sometimes have to dig down beneath the emotion of life and stir Him up.
You are the light of the world. A city set on a hill cannot be hidden. Nor do people light a lamp and put it under a basket, but on a stand, and it gives light to all in the house. In the same way, let your light shine before others, so that they may see your good works and give glory to your Father who is in heaven.
Matthew 5:14-16
What do you do when your feelings don't line up with Truth?