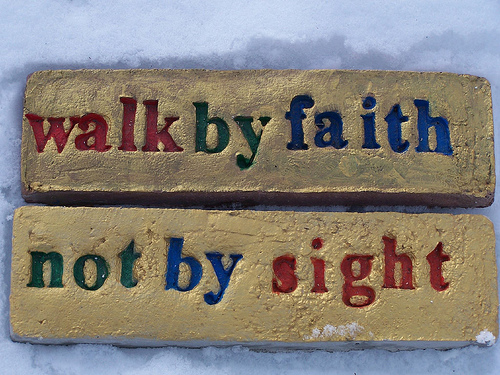 I have heard this verse a million times.  "Walk by faith and not by sight." (2 Cor 5:7)  But I can honestly tell you that until recently, I don't know that I've grabbed onto it very fully.  I guess maybe I always think about life like a hike…that we trust where we're walking without always having to know what lies around each bend.  Oddly enough, I'm sort of ok with that.  But recently, the Lord has been teaching me something different about this verse that I wanted to share.
As you all know, the past several months in my life have been a struggle to recover and move forward from my 4th miscarriage.  This past Friday was my scheduled delivery date.  It has definitely been a forward-moving crawl of progress, but I keep running into this place, this question… where I haven't trusted what's around each bend as easily as I have in the past.  And the root question that I know is at the heart of it all is the Lord asking me, "Do you trust me?"  I find myself honestly saying…."I'm not sure Lord….because look at all of this behind me."
For the first time after 6 pregnancies, I've been afraid to go forward, not because of just what might lie ahead, but because of what I know has lined the path on my way to this place.  Loss…heartache…doubt.  And somehow, until this most recent loss, I've managed to outrun all of that stuff.  Like, when it finally caught up…it all came crashing down on me in one lump sum that has left me feeling afraid and confused.
In a counseling session last week (yes….I have been going to a counselor,) my friend and counselor reminded me of this verse from 2 Cor. And for the first time maybe ever, I realized that I had to stop listening to the eyes in the back of my head and still walk by faith.  I can't be afraid to move forward just because of what's behind.  I can't stop trusting God because of some fear that he's not good.  He IS good and I can trust him.
Then the Lord reminded me "Even though I walk through the valley of the shadow of death, I will fear no evil.  You are with me."  Walking through the valley isn't just about what lies ahead of us, it's knowledge of what lies behind as well….and still choosing….CHOOSING to trust the Lord.
Yesterday, I found out that the baby for months we'd thought was a boy (because of an intelligender test I took) was, in fact, a girl.  At an ob appointment to just check in with my doctor and to talk about the future, I learned that our lost baby Fisher was an XX….girl chromosones through and through.  I have 2 boys, so this was pretty exciting news for me.  One, because now I know we're not a boy factory, and two because in that realization, I saw how the Lord had answered some prayers for us.  From the start of the pregnancy and before, my oldest son had been praying for a sister.  And while I love my boys, my heart's desire would be to have a girl in our family as well.  Had I known that even back in March, I think that I would have been angrier at the frustration of feeling robbed almost.  But….the Lord, in his kindness, saved that little nugget of information for me to see his provision….his answer to prayers.  And something about that knowledge made me feel loved…and empowered…and unafraid.  He's been listening all along.
Every time I looked out the back side of our house yesterday, there was a red-tailed hawk perched on our children's playground equipment.  Once on the playhouse, then on the climbing dome, and then the last time it was staring straight at me from the post of a half-built zipline platform.  I was talking to a dear friend at the time and was exclaiming at how close this giant bird was to our home…and how I felt like it was staring a hole into me.  She suggested that I look up information on hawks because sometimes the Lord speaks to us in different ways.  She asked how it made me feel, and my response…."somehow powerful."
I did some random digging around on the WWW and came across this interesting thought:
One thing that all hawks have in common is the skill to move between the seen and unseen realms gracefully connecting both worlds together. Their acute vision compliments this ability and their discriminating nature keeps them out of harms way. The broader vision of the hawk allows them to see what lies ahead.
They move amongst the seen and unseen in grace and power. 
Suddenly, I felt the Lord telling me that I am powerful and that my broader vision of the knowledge of his goodness is enough to trust what lies ahead.  That walking by faith and not by sight is walking in that valley…and not fearing.  That walking in faith in full knowledge of what's behind, but choosing to press ahead….that's glorifying to our maker.  And ya'll….that's just downright empowering to me too.
Not that I have already obtained this or am already perfect, but I press on to make it my own, because Christ Jesus has made me his own.  Brothers, I do not consider that I have made it my own. But one thing I do: forgetting what lies behind and straining forward to what lies ahead,  I press on toward the goal for the prize of the upward call of God in Christ Jesus.  – Phil 3:12–14
**How about you….do you need to stop looking backwards in order to move forward in power and grace?  Would love to hear your thoughts!
Photo Source