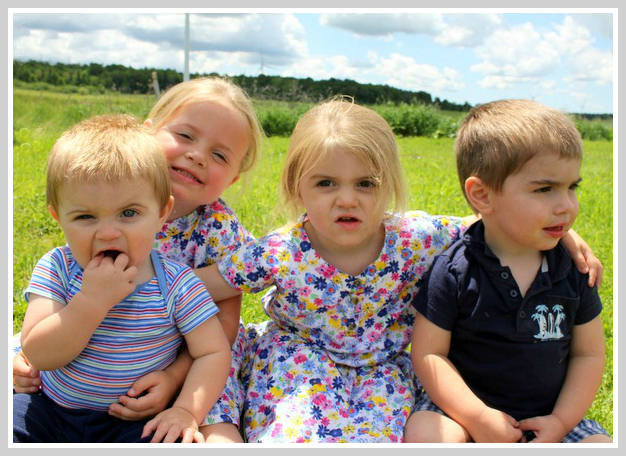 I'm a mother.
My babies call me "Ta-ta" instead of "Ma-ma" and they change depending on the day. Some days I have a houseful of boys with dirty bare feet and frogs in their pockets. Some days the doors are bursting with giggling pinkness and polka-dotted tea parties.
I never quite know who I will have but I always know who I am. 
I'm a mom. One that runs a farm beside her husband with a baby strapped to her back. One that milks cows and helps young boys learn to do chores and care for sick animals. One that reads Pilgrims Progress and sings Bible verses to teach her little ones the way to life eternal.
Tonight my right arm is aching from having a two-year-old in a baby sling on my hip while I worked in the fields. I John 5:3 is running through my mind from teaching a six-year-old about the importance of obedience. The barn is quiet but all day it echoed with children's voices. There is no doubt that I have become the mother I've always longed to be—even though this body has never born a child and these hands have never signed an adoption certificate. 
I didn't always spend my days mothering.
For years, I spent days in tears.
After that last doctor's visit, after I finally recognized that there was no possible way for me to claw my way out of the pit I was drowning in, after every door slammed shut in my face, I broke.
The words stretched my soul until it cracked and bled agony but I spoke them.
"God, I surrender my desires to be a mother. Make me what you would have me be." 
And the Author and Finisher of my faith reached down, lifted my feet from the miry clay, washed my wounds and sores, rubbed oil on my scars and said, "I would have you be…a mother." 
It doesn't look anything like I thought it would. My babies leave at night. They didn't grow inside me and I've never decorated a nursery. They weren't handed to me by an orphanage worker or a midwife.
But they sit at my table day after day. They wrap their arms around my neck and ask for kisses on stubbed toes. I teach them to pray and to sing and to dance in the rain.
Just like birth or adoption makes some women mothers these little ones have birthed motherhood in me. For years I looked around and only saw a glorified babysitter, passing time until her own babies filled her home but now I see true. I see what I am. I see who they are. I see God's redemption painting my life with brilliant colors of freedom.
And I'm learning to claim the title that I earned with every diaper change, every meal cooked, every hour spent, every prayer whispered, every lesson taught and every mess cleaned. I'm a mother. 
God made me what I always longed to be, in a way that I never expected, and my one simple step to start the process was surrender.
I've seen it over and over. First the surrender, then the change and the doors swinging open to redemption and glory. In motherhood. In my writing. In my friendships. In my marriage. 
May the lost dreams that are building sorrow in your life lead you to the foot of the cross and may you taste the miracle of heart-longings redeemed. 
Are there titles that you long for that are staying just out of reach? Do you dream of being a writer but your audience seems too small, your words too raw and broken? Surrender is always the first step towards redemption. Let's embrace it, together, and claim the titles that He gives us.