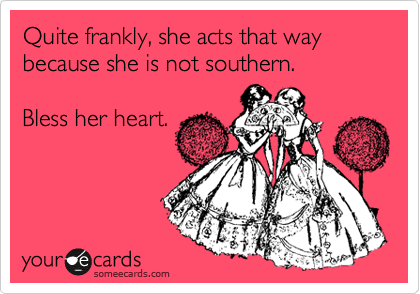 So, I'm from the South.  The land of sweet tea, grits, and Southern drawls… sticky summer nights, and minding your manners.  And when I say "minding your manners," I'm not just talking about putting your napkin in your lap at dinner.  It's a different culture down here.  Here in the Bible belt, it's easy to sense people minding their manners even in a prayer session.  Around these parts, the joke is that, as long as you say "Bless his/her heart" with a phrase…it gets to count as a sympathetic word.
But get this…. "Lord, help Betty Lou…That woman is mean as a snake….bless her heart.  And Jesus, we submit Billy Bob to you…That poor man just can't get control over his addictions…bless his heart."
Yeah….it's rude.  It's a cover.  A big, fat, fake excuse for gossip.  And it does nothing for a person but tear them down.
Now, it may not be that obvious as my exaggerated version above, but we've all done the same thing whether we want to admit it or not.  A "Lord help my husband be a better _____________."  Or, "Jesus, my sister is making me crazy….give me patience to deal with her."  You know what I'm talking about.  Prayers out of exasperation.  How about this, "Father….my children are out of control….help me handle them well."
Last week I wrote about calling out the greatness in others.  As I read through the comments, I really loved what a gal named Barbie said about it all.
"I've always been taught to call out the greatness in others, calling forth those things which aren't as though they are."
And I've been wondering if that idea is something that Christianity today has really taught us to do?  I don't know about you, but for me, it's a relatively new concept.  It's only been for about 4 years that I've even realized that we have the authority, given to us by Christ Jesus, to do this.  To speak something into existence….or out of existence for that matter.
So if you'll be so kind as to let me speak really candidly today, there's just something that I wanted to share that has revolutionized my life and my capacity to pray for people.  It's simple really, but before I learned this, I think I often felt myself struggling to pray well or to even know what I was praying for sometimes.  Today I want to share with you something I learned, that around my circle, we call "praying in the opposite spirit."
I wish it was easier to pray for people well sometimes.  Especially those situations with the "hard-to-loves" in life, it can be a struggle.  Our flesh can so easily rattle off all the things that tick us off or get under our skin, but to really pray for someone, we should be releasing blessing over them.  If all we're doing when we pray sometimes is having a complain-fest to the Lord, then we're missing the point and allowing the enemy to stick his big ugly foot smack in our sight-line of Jesus.
So let's just say that Betty Lou really is as mean as a snake.  She's unkind, and her words are full of venom.  She walks into a room and because of poor self esteem, she picks someone out to focus on tearing down.  And boy does she rip into that poor soul.  Oh she disguises it well though.  She's arrogant and proud…but of what you don't know.  Every word out of her mouth is a lie.  But, smooth words and a big smile pretend to hide the meanness she's fully intending to sting…but sting she does…over and over and over.  Betty Lou gets under your skin.  She makes you angry.  You just don't like Betty Lou.
So when we pray…we might be tempted to focus on all of those things I just listed above and basically after rattling them all off, we essentially just ask God to change her heart in a quick summation at the end.
But friends, we are daughters of the King.  And so is Betty Lou.  As citizens of the Kingdom of Heaven, we are entitled to it's benefits.  Benefits that Jesus paid for on the cross, and fruits that come from the Spirit of the Living God.  Things like love, joy, peace, patience and so on.
So this whole praying in the opposite spirit thing….it's kinda like the concept of binding and loosing found in Matt 16:18-19.
"on this rock I will build my church, and the gates of hell will not overcome it.I will give you the keys of the kingdom of heaven; whatever you bind on earth will be bound in heaven, and whatever you loose on earth will be loosed in heaven."
I've often noticed that this verse is used to just bind something away from us…to remove away things that are bad….depression, anger, pride, etc.  But if all we do is bind, we're on the defensive against the enemy.  We're reacting…not being proactive on the offensive.  When we loose though, that's when we ask heaven and all it's benefits to come down here to the earth.  As Kingdom citizens, we're binding away the works of the enemy and then releasing the benefits of heaven to invade the earth.
So Betty Lou….when we pray for her, it's so easy to think of the things we don't like. So, so easy.  But what if when we pray for her, we name the things we don't like, but only to bind them away….and then we go one step further to release the blessings of heaven onto her as well.
Father, I lift Betty Lou before you.  In Jesus precious name, I bind unkindness from her lips.  Father, I ask that you release the kindness of Jesus over her.  I pray Father that she begins to understand your kindness towards her and as a result, she desires to share that kindness with others. Father, though Betty Lou may struggle with self worth, we declare that she is valuable to the God of all Creation.  You sent your son to die for her, and I pray Father that she can slip into the righteous garments that you have made for her.  You call her beloved child, and I declare that she will begin to understand that her true identity lies in you and who you say she is.  We declare that the lies of the enemy to cause her to question her value must cease, in Jesus name.  Father, I ask that in your kindness, you release a spirit of humility over Betty Lou.  I pray that her lips will speak truth, and where lies have come forth before, we declare that the attempts of the enemy on her speech must stop now, in the name of Jesus.  Father, you love Betty Lou.  You sent your son to die for her just as you sent him to die for me.  We are all sinners in need of a Savior, and I pray Father that Betty Lou is drawn into communion with you through your kindness over her.  I pray Father that she feels your gentleness over her and that her spirit is softened because of your goodness poured out upon her.  She is your beloved child.  In Jesus' name, Amen.
Now tell me that you don't like Betty Lou better now after that kind of prayer for her?  For real….when we can find the things we don't like and come up with the opposite to pray for someone, it's amazing the blessing we suddenly find ourselves able to release over someone.  Talk about calling out the greatness?!
Instead of just praying for an end to selfishness….let's release selflessness, compassion, sympathy.  Instead of words about pride, let's speak out humility and a tender spirit.  Instead of addressing harshness, let's ask for gentleness, mercy, love.  You get where I'm going here?  And if you're having trouble, get on Thesaurus.com and go to town with some antonyms.  If you think Betty Lou is mean, put that in the search box, and then you pray the antonyms for her…generosity, kindness, unselfishness.  Once you start, you'll be amazed how much easier it is…and how much differently you'll feel then too about Betty Lou.
Anyhow, I know this is a bit different from the normal devotionals that you've come to expect from me, but it's something I've just been wanting to share with you all for a long time.  Because the truth is, that when we learn to pray for one another well, we learn how to love one another better too.
So let's get out there and start praying in the opposite spirit!  Let us be marked by the blessings we release, and the benefits of heaven that we call into existence!
*What do you think?  Have you been doing this all along, or is this a new concept for you too?  I'd love to hear your thoughts, comments, and revelations in the comments below.
Image Credit: Someecards.com