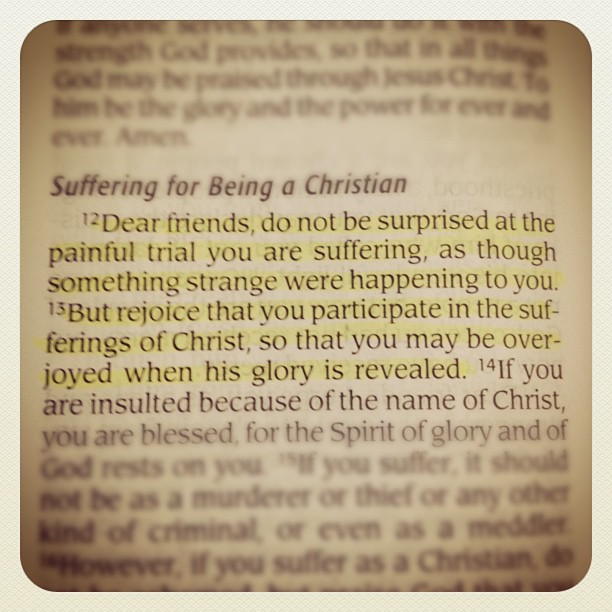 This last month has been a month of trials, tests, and lots of trust.
When you go through such seasons, do you ever stop and think about how God is working in your life at that moment? Maybe He has asked you to step out in faith and explore something new. The moment you step onto the path, something jumps in front of you, seemingly blocking the way. You cannot pass until it moves, or you simply push pass it.
In June we began the process of adoption. It wasn't long before the attacks began. Oh yes. Satan will throw those darts to try to veer anyone off the path God has set for them. You better believe it.
In the last few weeks alone, my husband was on the brink of losing his entire career. I went through a week of the possibility of being pregnant (which would not be good for adoption, I'm afraid). And my husband injured himself at work, which could have potentially put him out of work for a season, forcing us to dip into adoption funds.
When you're in the middle of facing a trial without knowing the outcome, you have two choices:
Panic  or
Trust
Most often our first reaction is to panic.
I think sometimes we mistake the trials that come from following God's will to not be God's will. We believe that if it's in God's will, it should come with ease. Oh this is so not the case.
There is an enemy out there working against us because God is working for us. He does not want us to succeed and he will aim at the heart of our own fears in order to stop God's work. It's so important for us to recognize this work.
I have clung to the promise God has made to us throughout each attack and prayed accordingly. Each attack, if it were carried through to completion, could have destroyed our ability to adopt.
It's so important to know what God has spoken to you specifically because that is what you will stand on and trust as you work your way through the trial. Do not look at the things that are seen, but trust the unseen. This is a faith that doesn't come without battling prayer. Flesh and self want to come in and reason and use logic and it may appear sensible; but it's simply not what God has told you.
Mary DeMuth says it beautifully in her book, Beautiful Battle:
Spiritual warfare has more to do with the state of your heart before a holy God than a list of things to do or avoid. It involves interaction, sometimes confusion, falling down, getting back up. It involves your willingness to look foolish, to take crazy steps, to trust God's voice. While there are principles to know and practice, it's your ability to trust God's power and authority that will bring about the victorious life.
 (Disclaimer: God's voice must line up with His word. He will not contradict what is written in the Bible). 
When God speaks to you about stepping out in faith, keep your eyes and ears only on Him. Stand firm on what He has told you and ask Him for confirmations to be certain you're hearing Him.
You can read more about our adoption here.
If you're interested in helping to support our adoption, you can buy Avodah coffee and a percentage of it goes to help fund our adoption. Thank you for your support and prayers!
 Affiliate links present