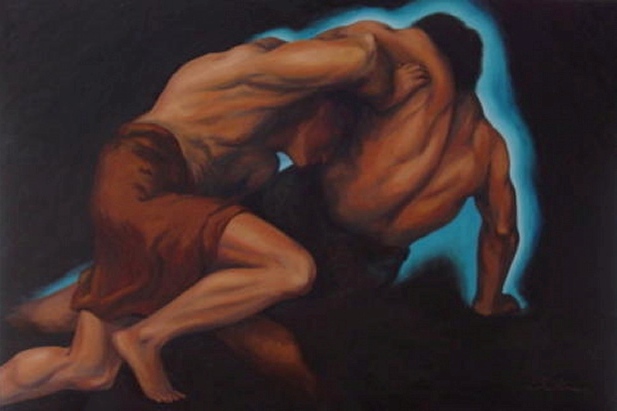 I gotta be honest with ya'll.  I feel like I've got nothing to offer by way of great spiritual perspective right now.  I should…oh I should.  I've fasted, I've feasted, I've focused, I've cried, and I've tried….and still….I wrestle.
A friend said to me the other day, "Logan, I bless you in your wrestle."
And I've been thinking about that.  What it looks like to wrestle well with God?  Not turning away, or running away, but just an all out roll-on the-ground-because-I-can't-seem-to-figure-it-out-but-have-to-get-back-close-to-Him wrestle.
It's not a piddly thumb wrestle.  And it's not a looks-fancy-but-is-really-fake-blood WWF-style wrestle either.  This is like a little boy wrestling with his dad….learning how to really fight, but truth is that you never learn how to fight well if you don't learn how to wrestle well first.  You never learn how to overcome if you don't hang in til the end.
My boys love to wrestle with their dad.  As soon as my husband walks in the door, both of my little guys are nagging him for "a wrestle."  Tossing on the ground, rolling around, pinning, squishing, squeezing, and sometimes even not-so-comfortable wrestling.  In our house, we call it "Domination."  And daddy always wins.  But my boys still love to play.  The more they play it, the better they get at in, and some day….they'll dominate my husband.  They'll come out on top in a wrestle because they will have learned how to do it well.
It's ok to wrestle, my friends.
I've been reminded lately that even Jacob, the father of a nation, wrestled with God.
And Jacob was left alone. And a man wrestled with him until the breaking of the day.  When the man saw that he did not prevail against Jacob, he touched his hip socket, and Jacob's hip was put out of joint as he wrestled with him.  Then he said, "Let me go, for the day has broken." But Jacob said, "I will not let you go unless you bless me."  And he said to him, "What is your name?" And he said, "Jacob."  Then he said, "Your name shall no longer be called Jacob, but Israel, for you have striven with God and with men, and have prevailed." – (Ge 32:24–28)
After his wrestle, God gave him Jacob new name even, Israel.  He redefined him and set him on a new course…a Father of a nation that is still called by the same name today.  God BLESSED Jacob because of his wrestle…because he didn't give up….because he hung in the fight all night long, and he wouldn't let go until he saw the blessing at the end of it.
And later….somehow it seems that even Jacob, when met with another rough time, had forgotten who he was.  So God piped up again to remind him.  He reminded him of his new name, Israel….and reminded him of the destiny and blessings on him because of that wrestle.
God appeared to Jacob again, when he came from Paddan-aram, and blessed him.  And God said to him, "Your name is Jacob; no longer shall your name be called Jacob, but Israel shall be your name." So he called his name Israel.  And God said to him, "I am God Almighty: be fruitful and multiply. A nation and a company of nations shall come from you, and kings shall come from your own body.  The land that I gave to Abraham and Isaac I will give to you, and I will give the land to your offspring after you." – (Ge 35:9–12)
So while in my own life, I'm still asking questions….still crying out in the middle of the dark night even 3 months later…still tearful in my inability to understand or feel like I'm moving far enough past the hard place where I started, onto the higher ground where I want to be….I have to know, that when I hang in there, when I continue to pursue God….there IS blessing in the wrestle.
There is blessing in the wrestle.
For we do not wrestle against flesh and blood, but against the rulers, against the authorities, against the cosmic powers over this present darkness, against the spiritual forces of evil in the heavenly places. Therefore take up the whole armor of God, that you may be able to withstand in the evil day, and having done all, to stand firm.  Stand therefore, having fastened on the belt of truth, and having put on the breastplate of righteousness,  and, as shoes for your feet, having put on the readiness given by the gospel of peace.  In all circumstances take up the shield of faith, with which you can extinguish all the flaming darts of the evil one;  and take the helmet of salvation, and the sword of the Spirit, which is the word of God,  praying at all times in the Spirit, with all prayer and supplication. To that end keep alert with all perseverance, making supplication for all the saints,  and also for me, that words may be given to me in opening my mouth boldly to proclaim the mystery of the gospel,  for which I am an ambassador in chains, that I may declare it boldly, as I ought to speak. – (Eph 6:12–20)
**When was the last time you found yourself in a wrestle?  What did you learn?  Did you hang in until you saw the blessing?
Original Image Source unknown