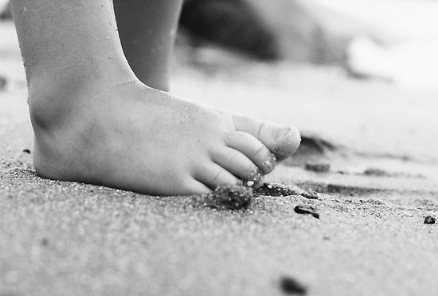 God is so big.
We all know he's big, and all-knowing, and powerful, omniscient, omnipotent, and probably a few other omni-prefixed words too.  Lately though, I've been reminded that even in his bigness, he cares about the little things too…the teensy tiny things even.  Things like ants, and dew, and mustard seeds, and hairs on our head, and grains of sand.
      "Four things on earth are small,
      but they are exceedingly wise:
      the ants are a people not strong,
      yet they provide their food in the summer" – Prov 30:24–25
      "I will be like the dew to Israel;
      he shall blossom like the lily;
      he shall take root like the trees of Lebanon" – Hosea 14:5
And the Lord said, "If you had faith like a grain of mustard seed, you could say to this mulberry tree, 'Be uprooted and planted in the sea,' and it would obey you. – Luke 17:6
Are not five sparrows sold for two pennies? And not one of them is forgotten before God.  Why, even the hairs of your head are all numbered. – Luke 12:6–7
How precious to me are your thoughts, O God!
How vast is the sum of them!
If I would count them, they are more than the sand.
I awake, and I am still with you.  – Ps 139:17–18
I'm at the beach with my family this week.  Today my 2 year old was playing in the surf, and as I sat there watching him, I found myself noticing the thin layer of sand which was stuck to the bottom of his feet.  The thought occurred to me that no matter how hard I'd try, there was absolutely no way that I'd be able to count those grains of sand.  No Way.
But God knows the number of sands on a beach.  He's the only one who knows…and the only one who can fathom it.  He knows the numbers of hairs on my head, and on my children's heads, and on your head too.  And I've found myself just sitting and ruminating on this Biblical concept that I've known since I was a kid, and thinking how unforgotten our details are to the King of Kings.
Our details are not forgotten….
In fact, our details super matter to the Lord.
It's not a new thought….just one worth remembering.  One I need to remember; that when even my tiny details are important to the Almighty…I am assured that the bigger things are sure not going to be left untended either.