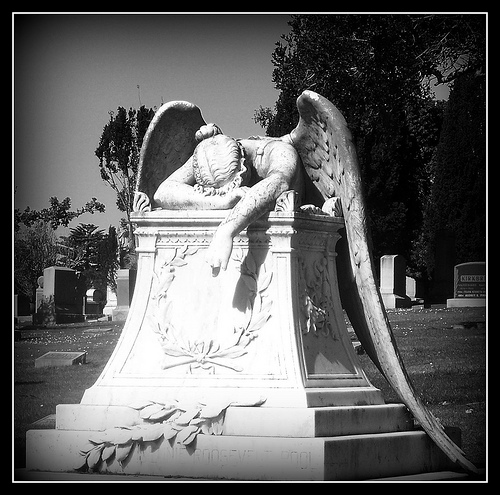 It was 16 years ago yesterday, I fell with bent knees in grief.   My heart had just begun to heal, and I am left wondering if my heart will ever heal again.
It was raining, and I could barely stand under the tent that sheltered the open space I would have to leave my babies.  I was moved by the music of healing – "It is well with my soul."   I had always believed this.  But this day, I truly doubted my soul would "be well again."
The days to follow left me in a place of anger, confusion, healing and on bent knee – with tightly clenched fists.
Last night I stood in this place again.  The tent was gone.  The tears were still fresh, and the ashes were traded for beauty.
Beauty in surrender. Willing surrender.
I know you have been in this place.  Trials leave a mark in all of our lives.  They just look different for all of us.  For you, it may be an illness, a recent loss, friendships, your profession, an empty space never filled,  marriage or motherhood.
Perhaps you are hoping the problems or pain will just disappear.   Have you shut your heart out to change?
Transformation comes through surrender.
God has such a perfect plan for the trials in our lives.  When we hang onto the pain, heart-ache, sadness and anger  – our lives will be like the stalwart tree that refuses to lose its leaves in the fall.  Independent, clinging to the very last bit of the pain, unyielding.
Never bearing intended fruit.  My knees bent daily – beginning with heart-ache and pain. I kept hearing – "Pursue me."  And I did.
My fists stayed clenched for so long. Afraid of more pain perhaps?  Not willing to let the loss of my babies lives be thought of as something beautiful.  How could that be?
Little by little, as I fell in grief and cried out to the Lord, my words became a conversation with my Heavenly Father.  A conversation that turned into praise.  My tightly clenched fists were now hands held high to the Heaven's – Arms stretched out high – Palms wide open.
I was being made new. His strength was made perfect in my weakness.
Can you let go today of the very things that are holding you back from a true intimacy with the Savior?
Perhaps little daily habits of despair, confusion, discontentment, or loss have transformed into big habits. Holding tight to pain.
There is beauty in surrender.  The day I said goodbye to the lives I carried in my womb, and walked away from that tent, my heart would have never believed I could find beauty in His purpose.
Sixteen years later, and many children running at the feet of Jesus, with worship and praise – I thank Him for transforming me – On bent knees and Open arms.
You would never know the pain this heart has had to bear, when meeting me and the joy that fills my heart and floods my smile.  But the marks of growth and grace, flood the words my heart will speak to you.  The pain that bore fruit.  It was slow, hard, and daily surrender.
And it is all good.
There is Life in the Light.   Allume – Living.
Do you believe this?  I understand if you are not able to fully embrace this right now.  Our journeys are all different.
But, I do believe that we can walk them together.  Can I walk beside you today?  And join you on bent knees?