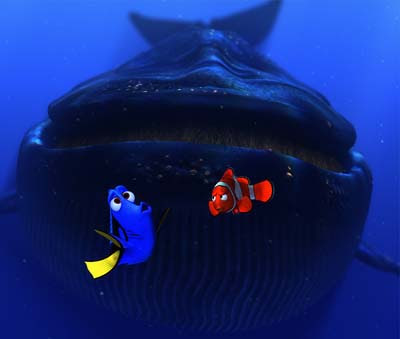 Marlon – "It's not ok!  I promised that I would never let anything happen to him!!!"
Dory – "Hmmm….that's a funny thing to promise."
"What do you mean?"
 "You can't never let anything happen to him, because then nothing would ever happen to him."
We drove home from vacation today and were in the car for 11 hours.  For about four of those hours, we allowed our kids to watch movies.  "Finding Nemo" was the first choice, and from time to time, I'd catch a few silly one liners.  Then I heard the above exchange and it made me stop and think.
And if you really want to pause about it, the conversation between these two little fish happened from inside the belly of a whale.
Hmmm….that seems kinda familiar huh?
Then Jonah prayed to the LORD his God from the belly of the fish,  saying,
                  "I called out to the LORD, out of my distress,
      and he answered me;
                  out of the belly of Sheol I cried,
      and you heard my voice.
                  For you cast me into the deep,
      into the heart of the seas,
      and the flood surrounded me;
                  all your waves and your billows
      passed over me.
                  Then I said, 'I am driven away
      from your sight;
                  yet I shall again look
      upon your holy temple.'
                  The waters closed in over me to take my life;
      the deep surrounded me;
                  weeds were wrapped about my head
                  at the roots of the mountains.
                  I went down to the land
      whose bars closed upon me forever;
                  yet you brought up my life from the pit,
      O LORD my God.
                  When my life was fainting away,
      I remembered the LORD,
                  and my prayer came to you,
      into your holy temple.
                  Those who pay regard to vain idols
      forsake their hope of steadfast love.
                  But I with the voice of thanksgiving
      will sacrifice to you;
                  what I have vowed I will pay.
      Salvation belongs to the LORD!"
 And the LORD spoke to the fish, and it vomited Jonah out upon the dry land.
Then the word of the LORD came to Jonah the second time, saying,  "Arise, go to Nineveh, that great city, and call out against it the message that I tell you."  So Jonah arose and went to Nineveh, according to the word of the LORD.  (Jonah 2:1–3:3)
"You can't never let anything happen to him, because then nothing would ever happen to him."
Sometimes I wonder if we're so consumed with never having anything bad happen in our lives, that we blame God when bad things happen, or get mad, or just go about our own plans to try and rectify things ourselves… and in the end, we miss the point of the whole shebang, or worse, we miss jumping into opportunities for greater redemption. 
Now, I don't believe that God does bad things to people to teach them a lesson.  It's not in his character to do so.  You may disagree with that theology, but I don't believe he inflicts suffering on his people to "teach us a lesson" or to "make us stronger."  I do believe that he allows things to happen, but that's different than doing it.  Anyhow…massive theological sidebar that I won't get into now….but no matter where you stand on that, it's hard to deny that if nothing ever happened to us, then often times, nothing would ever happen to us.
Oftentimes, ministries are birthed from pains.  Crusades are born from a desire to see change.  Revolutions endeavor to make life different.  Revivals happen when people recognize their own need. 
Things happen when things happen.
Not that to consider what God might do with our struggles or joys necessarily changes our perspective on them entirely….but really….What might God do with us when "things happen" in our lives?  Think of the possibilities?!
Jonah went to Ninevah….AFTER he spent time in the belly of a whale.  And while I'm sure Jonah probably wouldn't choose to have a re-do of that experience, his second chance at Ninevah saved the entire land.  The people repented and God relented.
Things happen….when things happen.
Doesn't it make you wonder what our great God will do with each of our "things?"
      But they do not know
      the thoughts of the LORD;
      they do not understand his plan,
      that he has gathered them as sheaves to the threshing floor.
      Arise and thresh,
      O daughter of Zion,
      for I will make your horn iron,
      and I will make your hoofs bronze;
      you shall beat in pieces many peoples;
      and shall devote their gain to the LORD,
      their wealth to the Lord of the whole earth. (Mic 4:12–13)
I love what this commentary had to say about this…
"And thus it is here; the nations are gathered against Zion, as soldiers into the field, but God gathers them as sheaves into the floor, to be beaten to pieces; and they could not have been so easily, so effectually, destroyed, if they had not gathered together against Zion. Note, The designs of enemies for the ruin of the church often prove ruining to themselves; and thereby they prepare themselves for destruction and put themselves in the way of it; they are snared in the work of their own hands." **
*Would love to hear your thoughts on that below!  I love that the Lord gathers for good, what the enemy intends to gather for evil.  How do you feel about the idea that if nothing ever happened, then nothing would ever happen?  Whatcha thinking?  Do tell….
Photo Credit – from Disney's Finding Nemo
** Henry, M. (1994). Matthew Henry's commentary on the whole Bible: Complete and unabridged in one volume (Mic 4:8–13). Peabody: Hendrickson.